An Introduction to Status IM
The world of Blockchain and the cryptocurrency ecosystem can be a daunting place at times and no more so than for new community members. I therefore decided to comprise this post with the sole intention of keeping it simple and hopefully help to give a brief overview of all things Status. Whilst not comprehensive, think of it like a one stop shop for beginners which will hopefully contain all the basics to help get you started within the community.
Status IM is an instant messenger with both public and group chats as well as a cryptocurrency wallet capable of storing, sending and receiving ETH and ERC20 tokens as well as a variety of ERC721 non fungible collectable tokens or NFC's as they are more commonly known. Status is also a portal to the decentralised web and provides access to a wide range of decentralised applications or Dapps. Status incorporates their native token, the Status network token or SNT for short. SNT has a variety of use cases which I will talk about a little later.
BUIDL on the Ethereum Blockchain
Status are strong advocates for a fairer world, a fairer system that works for the many and not just the few within society. Status believe that the user should be in control of their own data and identity rather than traditional centralised companies. Enter Ethereum, Ethereum allows for smart contracts to be written, deployed and executed within the Ethereum network. These smart contracts can be verified and reach consensus via proof or work. Here, a miner uses their computing power to carry out the required calculations and therefore earn some gas for carrying out the on chain transaction, gas is paid to the miner in the form of ETH. Put simply, all this allows for a decentralised network which can be proven to be true therefore doing away with having to rely on a trusted centralised entity.
Status aims to be a gateway for users into the Ethereum world by providing people with an easy to use interface in the form of a mobile decentralised application which can be downloaded onto existing mobile and desktop platforms.
The end goal of Status is to become a completely Decentralised Autonomous Organisation or DAO run entirely by the community it serves.
History in brief
Status IM founded by Jarrad and Carl wrote and produced a white paper https://status.im/whitepaper.pdf and subsequently held an initial coin offering in June 2017. The ICO proved so popular that it succeeded in congesting the Ethereum network for a short period and went on to raise over 100M in the first 24 hours.
After the ICO, status saw a large following on the popular chat platform Slack, this was short lived from a community user base given the inability to counter spam. Not forgetting this was 2017 when the ICO craze was in full swing and this unfortunately brought a wave of FUD which invariably had a negative impact on community engagement. The Status team swiftly decided to move the community to another chat platform called Riot. This was done as Riot is an open sourced platform and therefore aligned with the Status vision of a free and open society. Status built a strong relationship with the Riot team and went on to make a 5 Million dollar contribution to Riots continuing development. The Status team continued to use Slack for their main communications and bridged their Slack channels over to Riot giving the whole Status community access to full and transparent chatter between the team. Many of the community also joined the Status Telegram channel as this was more akin to discussion around trading and market speculation. It was important that the team distance themselves from any price speculation talk. I don't think this was initially received well by a select few within the community, however separating price talk and main communications within the community was a necessary evil. Given that we are in the world of crypto and whilst regulation may be lacking, there is still a certain eyre of professionalism to be upheld and therefore Status could be perceived as somewhat helping to set the standard when it comes to acting responsibly and with a moral compass.
More recently Status has grown from a handful of people to upwards of 70 employees operating across the globe. As well as expanding their organisation, Status regularly sponsor and attend events and global hackathons as well as hosting their own hackathon more recently in Prague. It was at one of these recent events, Devcon 4 that the team took the leap and turned off their Slack completely switching to using Status Beta full time for their main communications. This has been well received within the community and users can now see a significant increase in terms of chatter within the Status Dapp. I should point out that before the team released the Beta, there was a thorough security audit undertaken by Deja Vu, more details can be found here https://blog.status.im/status-deja-vu-security-audit-final-report-5b6eda5a683a.
Although still in Beta there have been great improvements of late to all aspects of the Status Dapp. There are regular updates every two weeks where the team release the latest upgrades via TestFlight for iOS and the google play store for Android, with the most recent update seeing group chats and UI improvements just to name a couple. You can find the Status Dapp itself here https://status.im. The Status desktop version can also be found here https://dev.status.im/nightly/index.html with the team currently working hard on the Desktop Alpha release.
As well as fortnightly updates there are regular town halls every two weeks. These run in between the beta updates, meaning there is something for the community to look forward to every week. These are streamed live on the Status youtube channel https://www.youtube.com/channel/UCFzdJTUdzqyX4e9dOW7UpPQ/videos. I would certainly recommend watching these live if possible as you can participate in the Q and A with the team as it happens. However do not panic if you miss the live Q and A with the team as you can always chat with them in their relevant Status channels of which a full list can be found here https://people-ops.status.im/status-channels/.
Development
Development across all Status projects seems to have been progressing at light speed in recent months. You can keep a check on technical progress and also report bugs on the Status GitHub page here https://github.com/status-im. This increase in development has not gone unnoticed within the Ethereum community. Seeing regular tweets from organisations monitoring Ethereum dev activity has become a regular occurrence.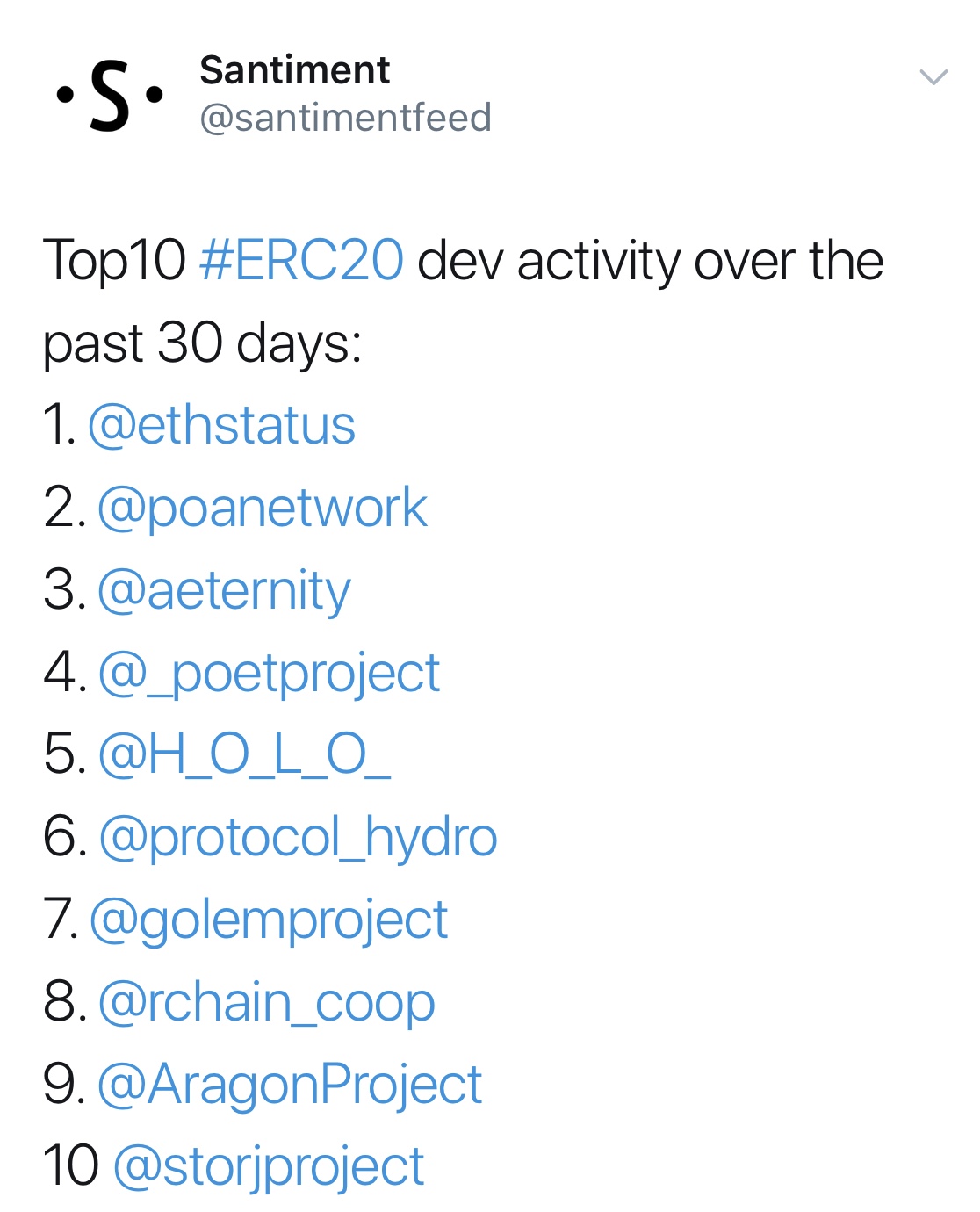 Whilst Status is primarily a mobile Dapp, you can see some of the other projects that have been developed in order to strengthen the Ethereum eco system and also the Status brand as a whole, you can read more about each here https://status.im/.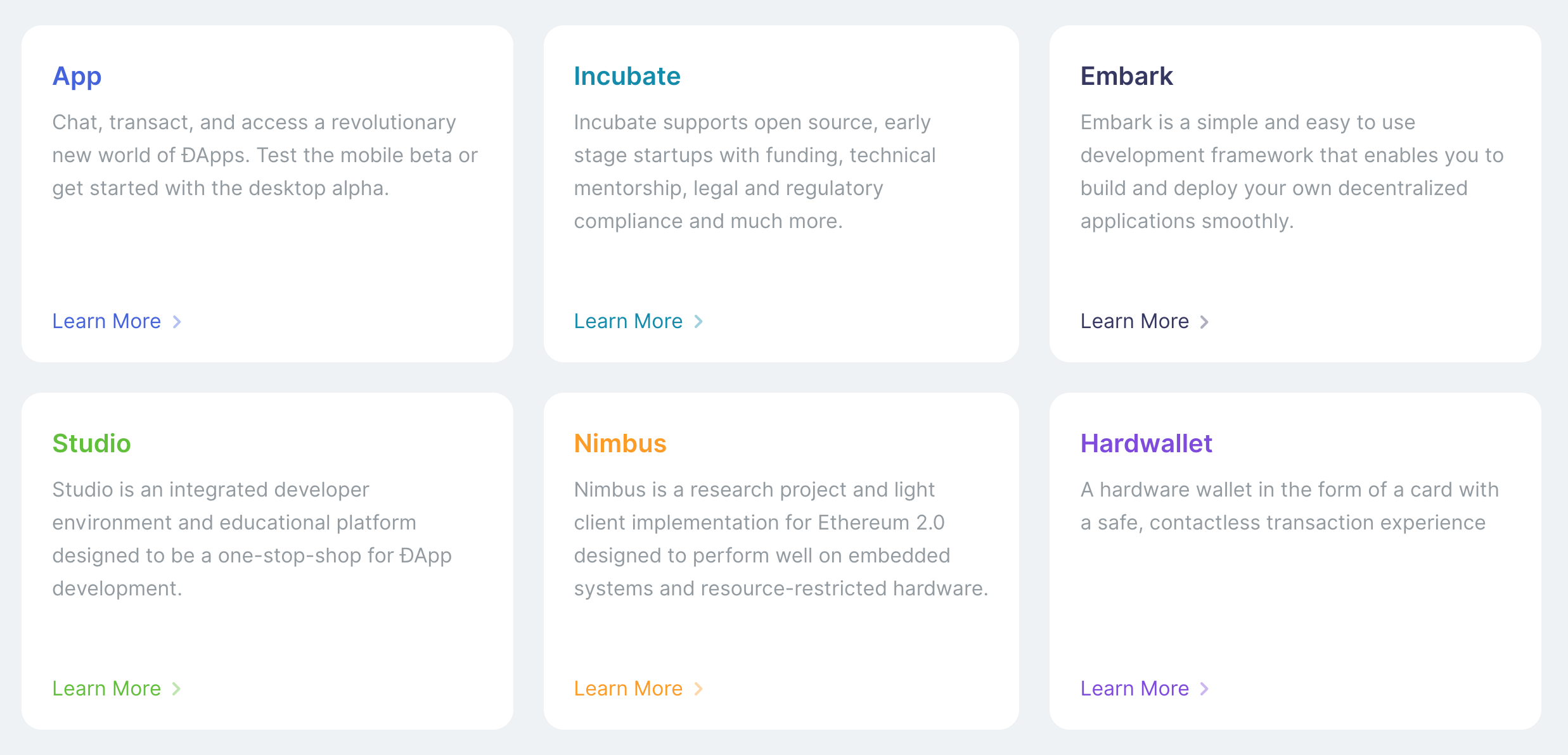 Status have shown to be consistent in leading from the front. It is this activity and commitment to help build on Ethereum that saw the Status Nimbus team awarded a 500K grant to help continue development https://our.status.im/nimbus-receives-ethereum-foundation-grant/.
The incubate team have helped propel a number of projects by providing funding and mentorship and more. Some of these projects such as SuperRare, CryptoStrikers and kickback can be found within the Status Dapp store, be sure to check them out.
Embark is an exciting framework that was developed to help create Decentralised Apps, this can be seen in action at a range of Ethereum events and is certainly an integral part of Status hackathons.
Keycard
Coming soon is the Status Lite wallet which was recently re-named "Keycard" by the Status community using the Status voting Dapp. Keycards physical shape and size is convenient to fit in your existing wallet/purse like a credit card. It's this familiarity that will hopefully help onboard new users and lead to wide adoption. Keycard will also utilise NFC capabilities and therefore provide an air gapped security protection at a fraction of the price of many other existing hard wallets.
Keycard is shaping up to be something special within the crypto space, the majority of people use a smartphone daily so a mobile Dapp combined with the security of a hard wallet gives Status and keycard that killer combination to future mass adoption.
The native token SNT
There are many SNT use cases outlined in the Status white paper such as:
SNT is required by Stakeholders to select and receive push notifications.
SNT is required to register a username on the Status Network.
SNT is required to deploy a semi-public token-based group chats.
Tribute to Talk
Inspired by one of Satoshi Nakamoto's original suggested use cases for Bitcoin, we will be introducing an economics-based anti-spam filter, in our case for receiving messages and "cold" contact requests from users.
SNT is deposited, and transferred from stakeholders to recipients upon receiving a reply from the recipient.
SNT is required to opt-in for curation mechanisms.
Teller network
SNT is required to become a seller.
DApp directory
Required for curation and signalling in the Teller Network.
Research case: Required as a deposit by DApp Developers who wish to attain greater attention to their DApp.
Sticker market
Required for Curation & Signalling in the Sticker Market. Required by Sellers to participate in the Sticker Market. Required by Traders to participate in the Sticker Market.
Acquisition Engine
Required to become a Seller in the Acquisition Engine. Required to become a Buyer in the Acquisition Engine. Deposits are made in SNT.
Whilst progress continues to be made towards these SNT use cases as well as continued brainstorming to come up with new ones, the team have developed and integrated ENS usernames and the SNT voting Dapp into Status.
The Ethereum name service Dapp allows a user to swap their long contact code consisting of a long sequence of letters and numbers to something simple like (yourname).stateofus.eth. Here the user has to lock up 10 SNT to secure their username and also pay a small amount of gas in the form of ETH, the gas is paid as this is an on chain transaction on the Ethereum main net. The ENS portal in Status can be found under the users profile section. More information regarding ENS can be found here https://our.status.im/ethereum-name-service-now-available-in-status/.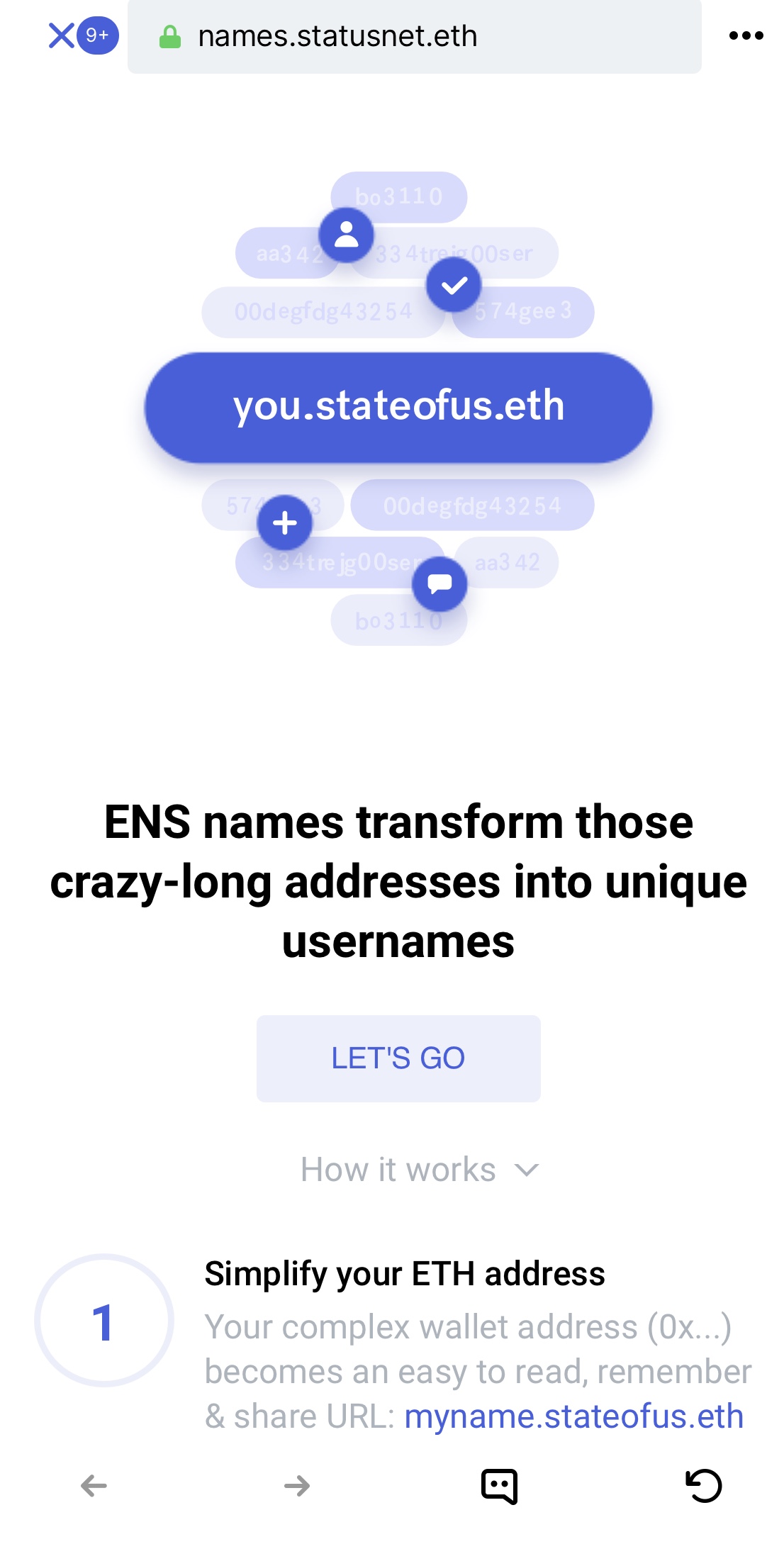 The SNT voting Dapp is also an exciting development as the Status teams ultimate goal is to become a Decentralised Autonomous Organisation or DAO. Here Status would be released into the wild and ran entirely by the Status users/community so although early days, this is a significant milestone reached. The voting Dapp allows community members to take a snap shot of SNT in their wallet at the time of voting and therefore vote on the outcome of said poll. The voting Dapp uses quadratic voting so that a single user with a large amount of SNT cannot sway a vote against say many voters with a small amount of SNT. More information can be found here https://github.com/status-im/snt-voting
Far from the finished product, the voting Dapp is definitely paving the way in an exciting field. You can access the voting Dapp by scrolling to the bottom of the Dapp page within Status.
Community
From inception to present time, the Status community team have made great strides in harnessing the communities diverse thought power from across the globe. I have experienced this first hand from being an active community member and having being fortunate enough to meet and speak to like minded people from many countries around the world. Whilst Status has an amazing community, it is not without exception when it comes to a depressing bear market Monday and someone in the public channel shouts "WHEN MOON" and out cries another stranger "WHEN LAMBO" this simple exchange of banter seems to transcend language and will never fail to make me chuckle on a gloomy Monday morning.
People within the Status community are always encouraged to engage and ask questions as well as help guide one another through crypto space. Status is pushing the envelope and is somewhat of a utilitarian open book getting ever more beautiful by the day. By its very nature of operating on the sharp end, Status welcomes outside of the box thinking and opinions from its community, the project is as strong as the daily users who will eventually become the very framework of Status itself once fully developed.
More recently the Community team have soft launched https://statusphere.status.im. Here you can join and participate in community initiatives where you may or may not be rewarded SNT for taking part. You can pick and choose which initiatives you would like to enact or you may prefer to simply stroll by and take a look, no obligations. The Statusphere site is subject to change given its early nature and soft launch, however watch this space as new community engagement opportunities are due early 2019.
To stay up to date with future community events and competitions as well as all things Status then be sure to check out the Status twitter page https://twitter.com/ethstatus. Also https://our.status.im as well as https://discuss.status.im for information rich reading and discussions.
Recent events at Status
Whilst writing this blog post the financial cryptocurrency markets have remained on a downward trend and this has subsequently impacted many projects within the Blockchain space. This has resulted in a large proportion of capital been wiped from these organisations and therefore had a detrimental effect on development.
Status has not escaped this market realisation and unfortunately have had to make significant changes in order to protect the longevity of the project. These changes have come at a great cost as the team sees a reduction in size of 25%, details of this can be seen in the recent town hall transcript https://discuss.status.im/t/townhall-transcript/862.
Whilst the team have undoubtedly delivered some amazing achievements to date, the transcript does now put a new focus on delivering the SNT use cases as outlined in the Status white paper as well as reliability improvements within the Dapp itself.
Hindsight is a wonderful thing and it doesn't escape anyone whether you're a small crypto investor or the founder of a large project such as Status IM. There has been an elephant in the room for a while now and it's important to talk about that.
To remain tethered to principles and ideals yet stay buoyant until a market flood reoccurs is no easy feat especially when no market guarantees are written. Over the coming weeks and months Status will continue to evaluate the financial situation and may have to become even leaner. This may affect a lot of the side development that Status has previously undertaken and which I have spoken about in this post. But whilst this development may take a knock, its reassuring to know the mobile Dapp is and continues to be developed with a fresh shift in focus.
It's important to remain focused on the entire eco system, whilst the markets are down the technology remains strong. I truly believe we are living through one of the greatest technical, people empowering endeavours to grace a minority, with the power to reach and impact the majority for the greater good. We as a community are that minority right now and we have it within each of us to carry this amazing opportunity of decentralisation and help others less fortunate and create a fairer world for everyone.
Warsoverjohn