Kwenta is a new derivatives exchange with infinite liquidity powered by the Synthetix protocol. It is now available all from your pocket with Status and dap.ps
Kwenta offers a robust intuitive experience for trading Synths. Synths are assets supported by the Synthetix protocol which mirror the price activity of underlying assets.
The key benefit of using Kwenta is that traders gain access to a diverse suite of assets that can be traded with zero slippage, no matter the trade size. Kwenta is able to offer infinite liquidity thanks to Synthetix' innovative liquidity model.
Kwenta is yet another powerful dapp bringing the power of DeFi to dap.ps and Status. Dap.ps is the token curated dapp directory inside the Status mobile app enabling a growing ecosystem of defi, marketplaces, games, utilities and more.
Synths
Kwenta offers traders access to 42 different assets including forex, cryptocurrencies (long and short), commodities, equity indices like the NIKKEI and FTSE, and custom indices like the DeFi index which provides a basket of the most popular DeFi tokens on the market.
These assets equip traders to capture growth, no matter the market conditions, inside and out of the cryptocurrency space.
Innovative Charting
The exchange tab on Kwenta is equipped with an innovative dual-pricing chart that enables users to monitor the performance of Synths based on familiar denominations like USD, ETH, or BTC.
This makes trading on Kwenta highly accessible while also meeting the needs of expert traders.
Dashboard
Kwenta's dashboard simplifies monitoring your Synth portfolio performance. Track growth, oversee positions, monitor trending Synth activity, review your history, and easily onboard into Synth trading all in one place.

How to Start Trading
Open Kwenta in dap.ps from within Status and allow Kwenta to connect to your Status wallet.
Press the start trading button in the top right corner.
If you don't already have any, you'll need to acquire a Synth. You can use the swapper on the dashboard page to swap from ETH into sUSD. Note this transaction will have slippage as it is not a Synth-to-Synth swap.
Once you've got some sUSD (or another Synth) in your wallet, you'll be guided back to the Exchange page. From there, you can make a trade by using the dropdown to select the Synth you'll trade out of, and then which Synth you wish to trade into.
Once you've executed the transaction, you're all done and the trade is complete! Please note there's a 10 minute waiting period after each trade.
Upcoming AMA
Learn more Kwenta and Synthetix at our upcoming AMA with Synthetix core contributor Garth Travers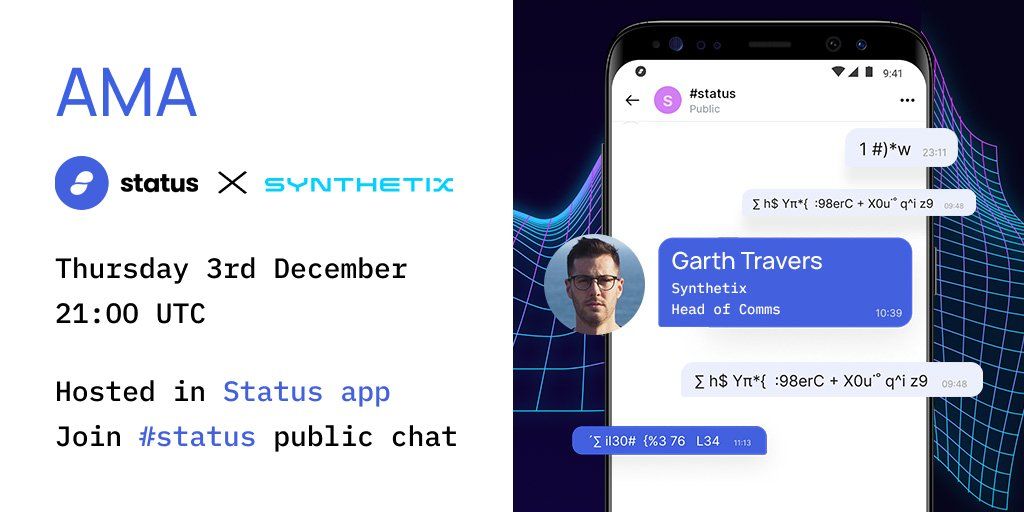 Conclusion
Kwenta leverages Synthetix to provide traders with permissionless exposure to a range of synthetic assets. You can open a position on gold or silver through sXAU or sXAG, or get exposure to a basket of DeFi tokens via sDEFI. And the possibilities are constantly growing.

There will be plenty of new features added to Kwenta in the coming few months, including support for any new trading functionality Synthetix launches, including synthetic futures, Synthetix loans, and limit orders.
Install Status >>
Check out these DeFi Dapps dap.ps >>
---
*Disclaimer - This article was written for your entertainment, and the content is for informational purposes only. You should not construe any such information or other material as investment, financial, or other advice. Using decentralized financial tools does not come without risks and using Status is simply a portal to these tools - Status does not mitigate associated risks of said products.
Thank you to Andrew Trudel of Synthetix in support of writing this article.