[Disclaimer] This Townhall is filled with jokes for April Fools, all partnerships are not real!
This week Jarrad introduces a new tool to the team called Wrike. Our People Ops team gives an update on what the accomplished in Q1 & launch a Kudos Dapp! Oskar gives an update on Chaos Unicorn day, Iuri gives an update on Embark and Zahary gives an update on Nimbus.
New Contributors
To the theme of Kanye's The Life of Pablo Album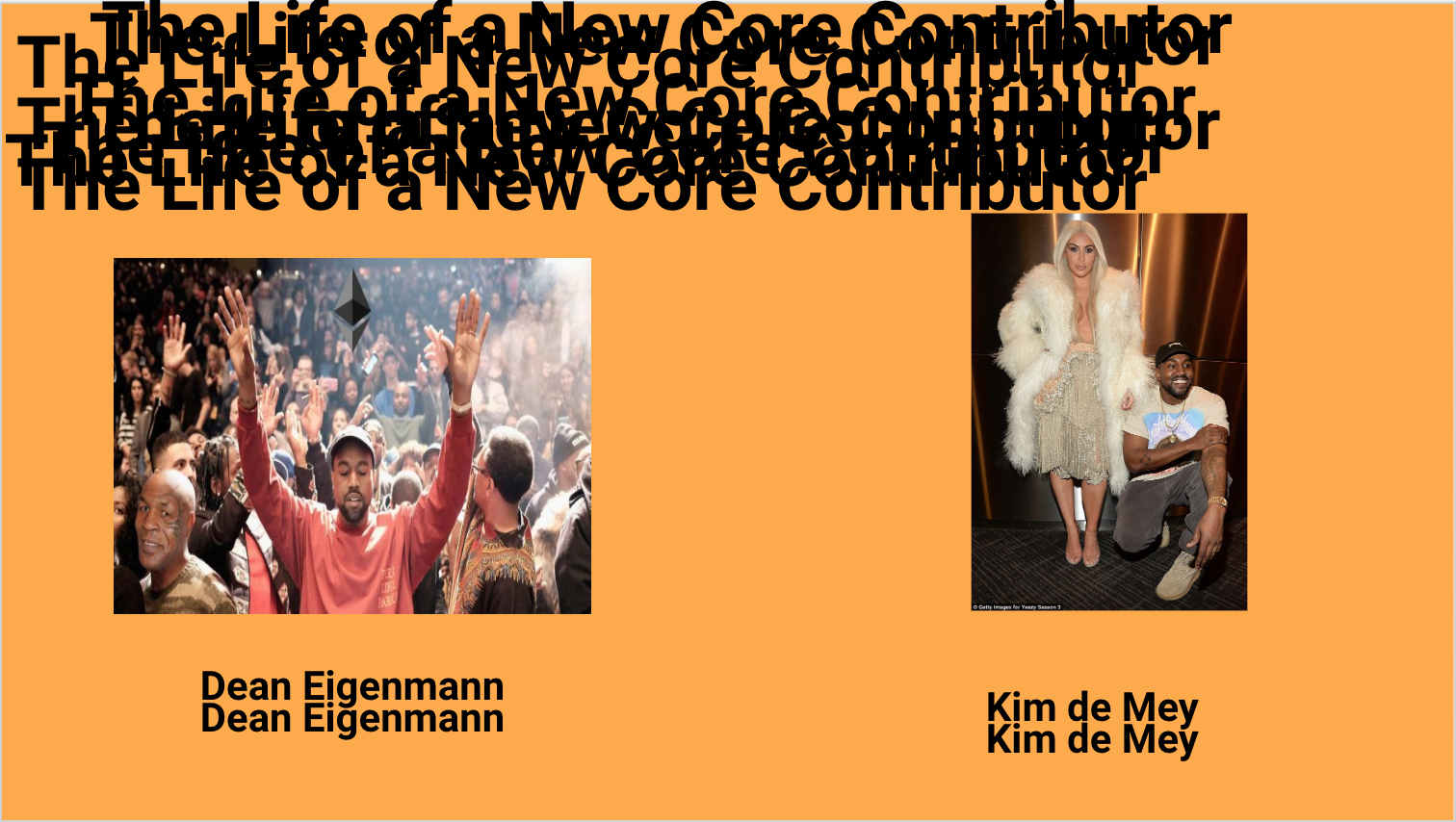 #statusbuidl week
Hackweek happening April 8 -11, 2019. Page here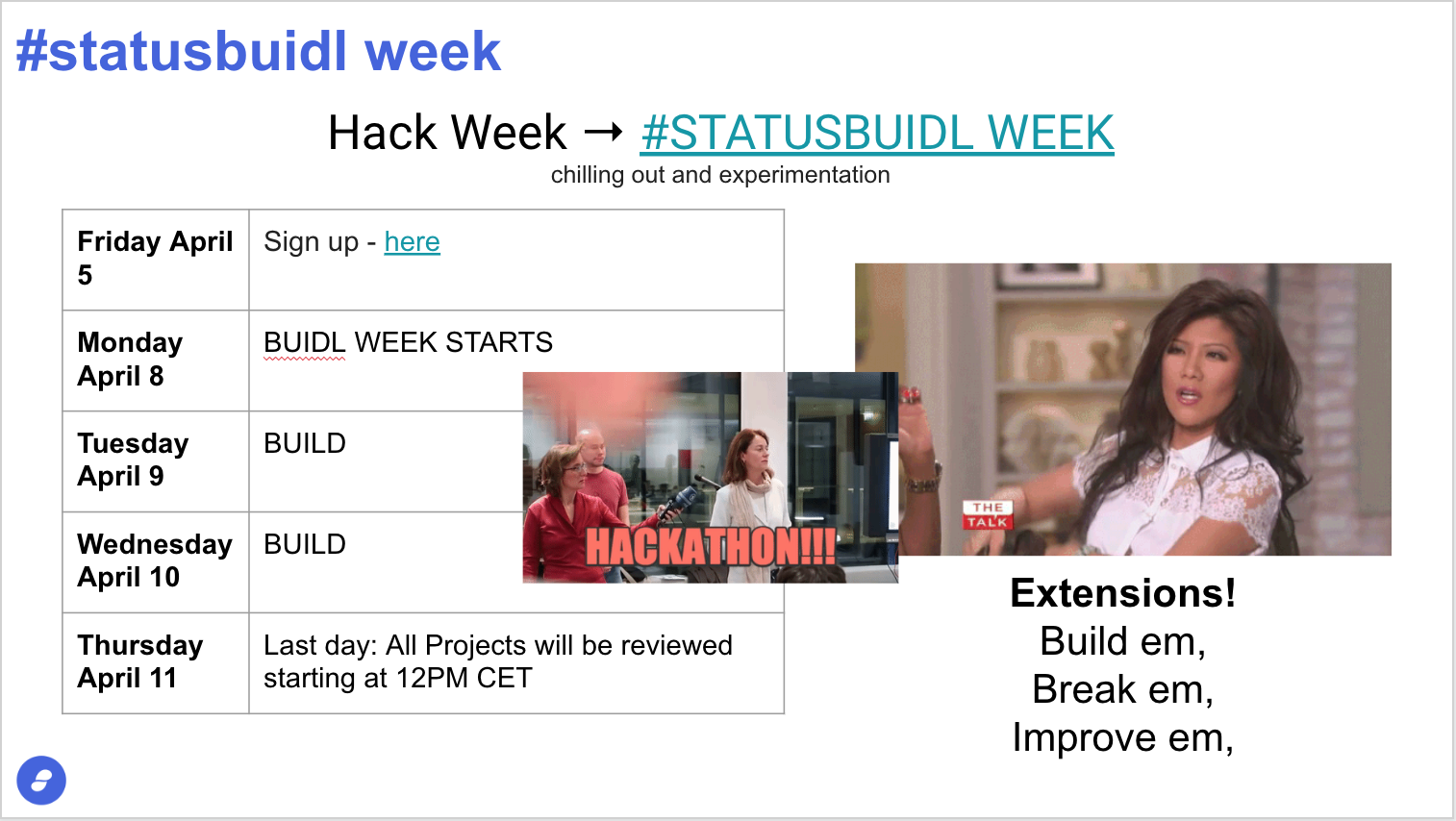 What is [John] Wrike?
Jarrad introduces our new internal tracking tool.
Pops Update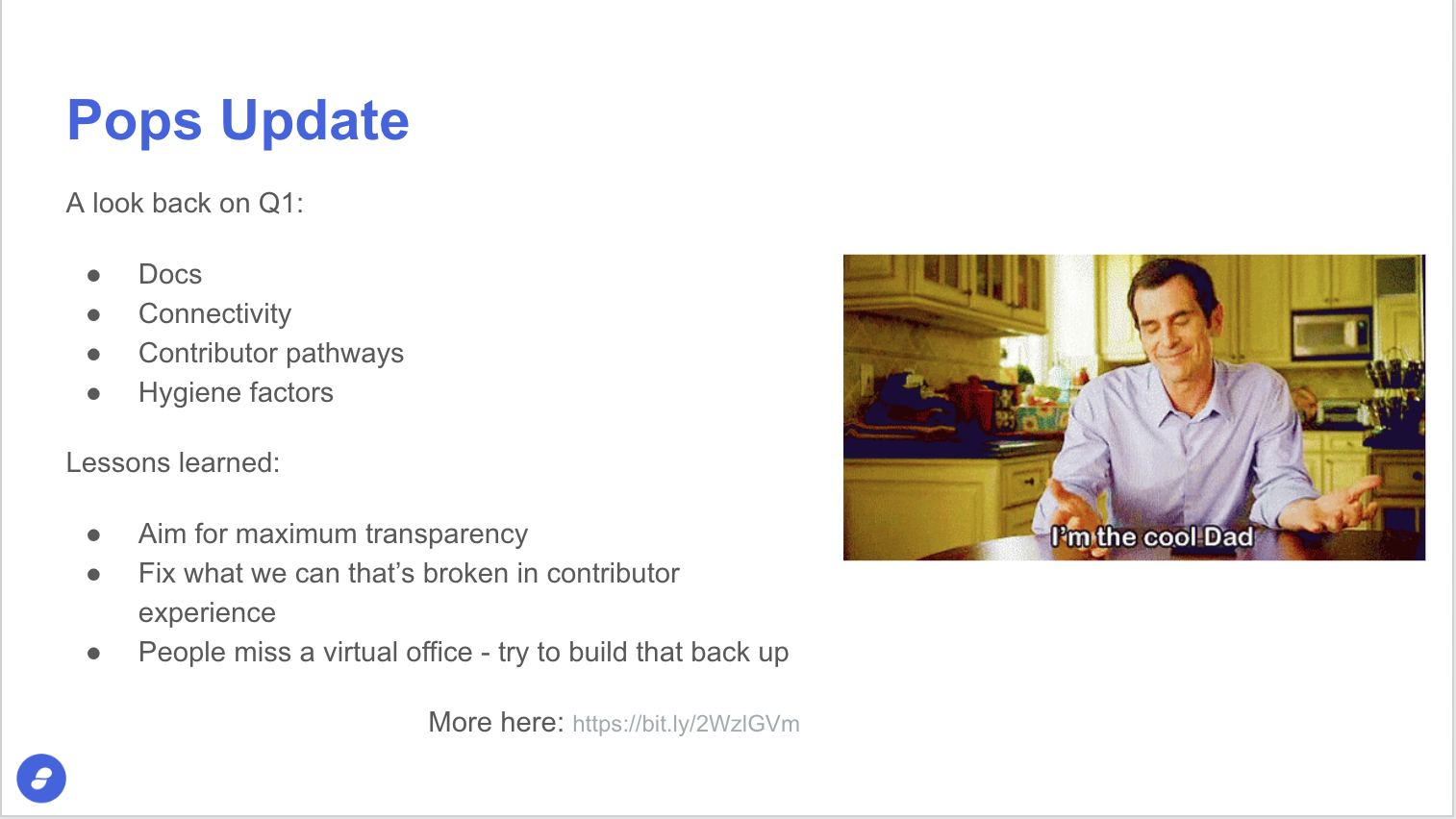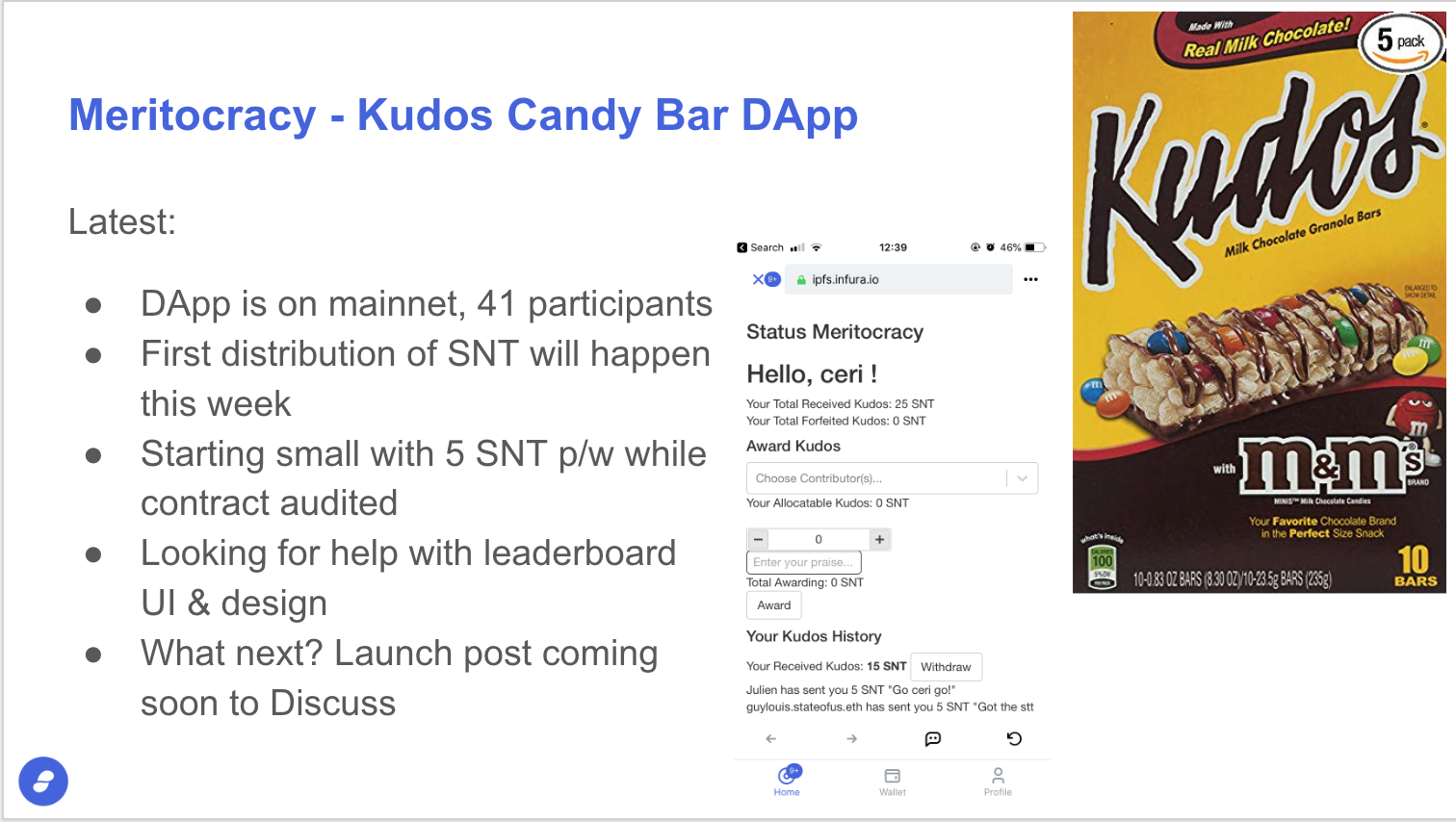 Tribute to Talk
Swarm Repo - https://github.com/status-im/swarms/tree/master/ideas/314-tribute-to-talk
Design Explorations - https://www.figma.com/file/aS1ct66VQ6V0cio7vSqS8UoG/Chat?node-id=1319%3A13403
Join the Status Channel - https://get.status.im/chat/public/314-tribute-to-talk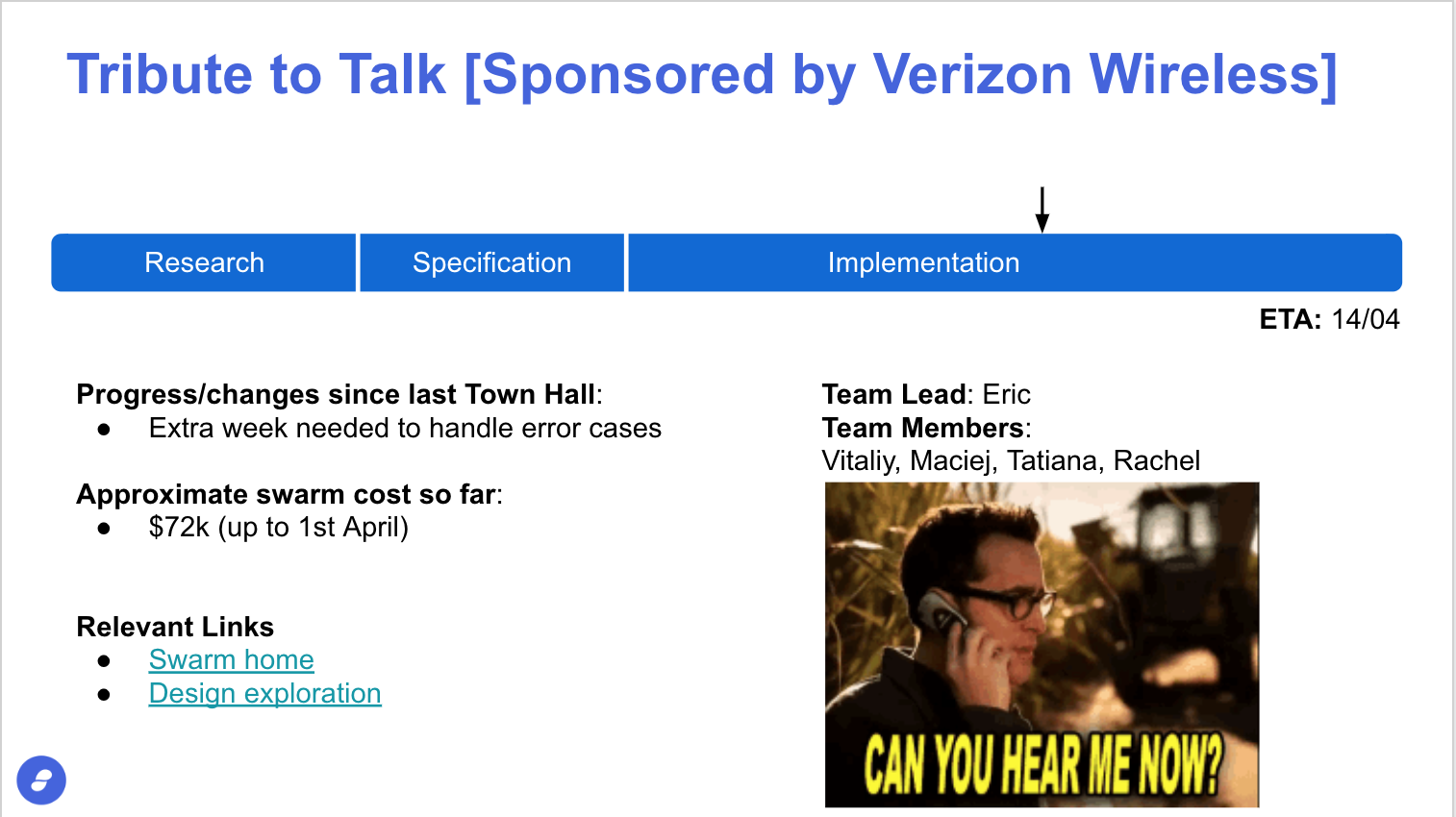 Sticker Market
Swarm Repo - https://github.com/status-im/swarms/tree/master/ideas/313-sticker-market
Specification Doc - https://github.com/status-im/swarms/blob/master/ideas/313-sticker-market/specs.md
Join the Status Channel - https://get.status.im/chat/public/313-sticker-market

N€twork In¢€ntivi$ation
Status Teller Network
µTopic Democracy
Swarm Idea - https://github.com/status-im/swarms/blob/172-topic-democracy/ideas/172-topic-democracy.md
Github Repository - https://github.com/status-im/topic-democracy
Presentation - https://docs.google.com/presentation/d/1FJkaJlp_Fs0D5KHsn8oEgDOhg9QKiBwxHOvUL0dvC5I/edit#slide=id.g3566e18d6f_0_8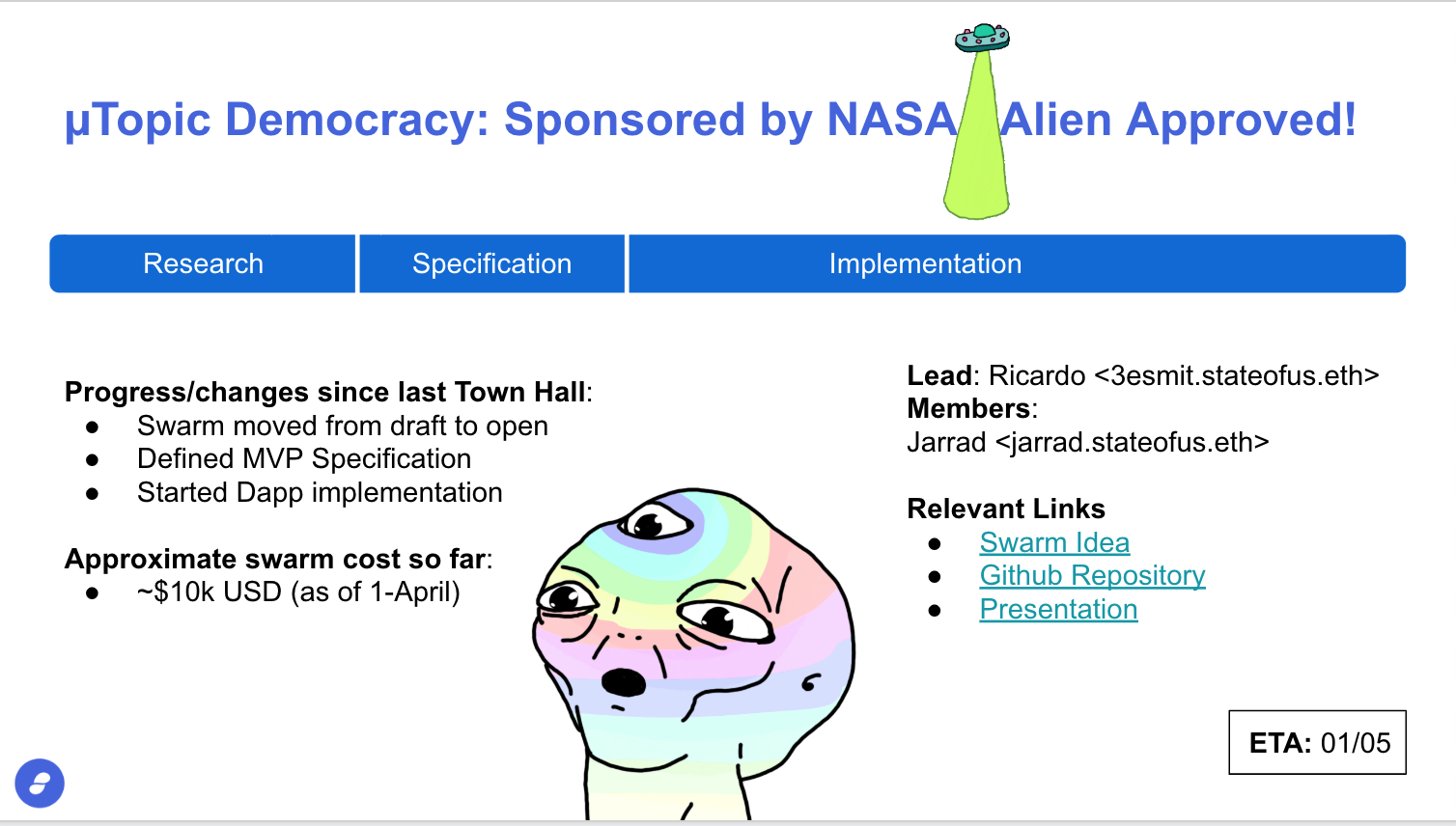 DAO
github.com/status-im/liquid-funding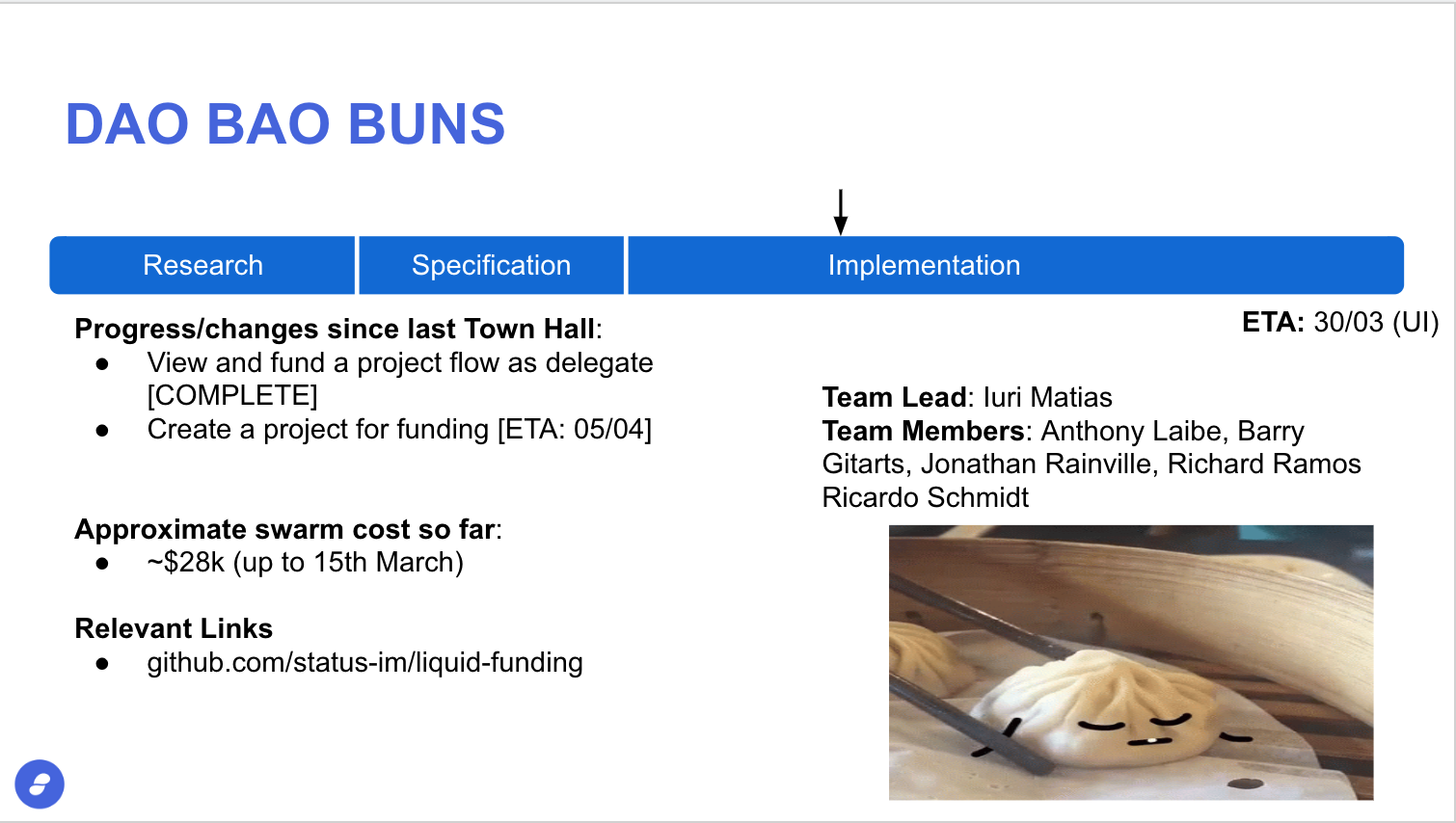 DApp Store
Contract here - https://github.com/andytudhope/Recollections
Latest Observable Model here - https://observablehq.com/@andytudhope/dapp-store-snt-curation-mechanism
Swarm Issue - https://github.com/status-im/swarms/blob/master/ideas/317-dapps-store.md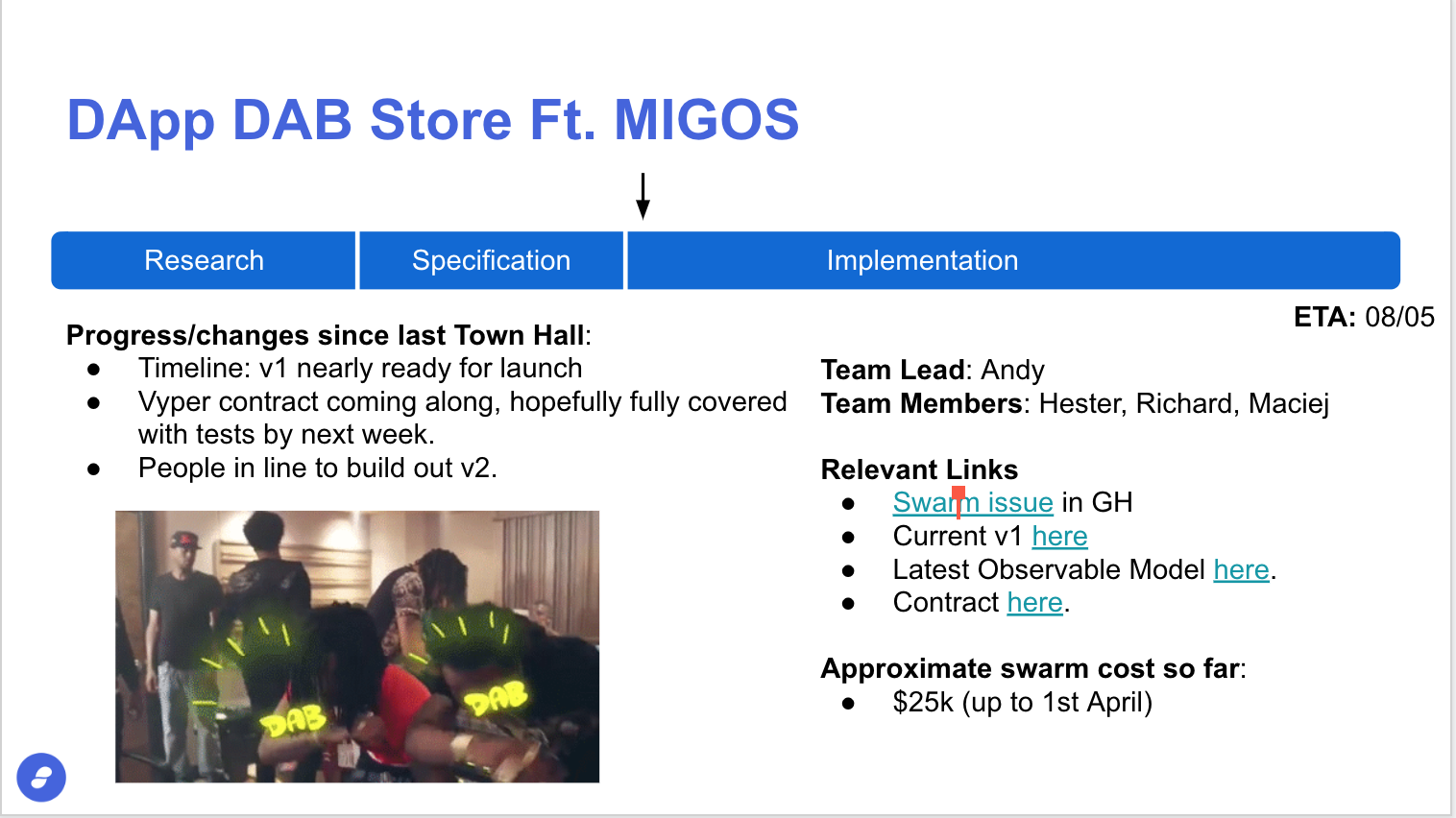 Core Improvements
Other Updates
Chaos Unicorn Update
Live feed here - https://discuss.status.im/t/chaos-unicorn-day-live-discussion/1123
Embark
New Website - http://embark.status.im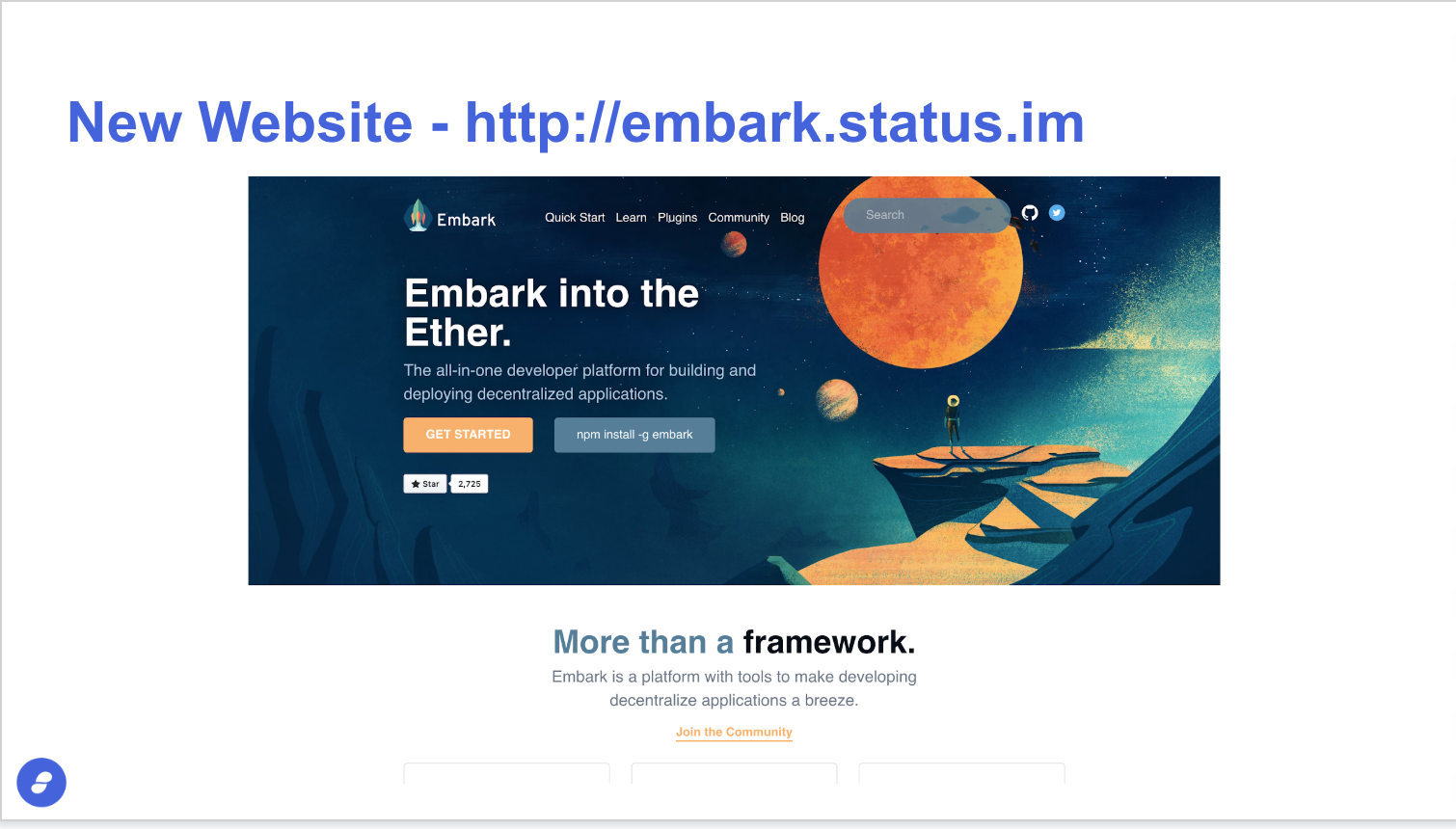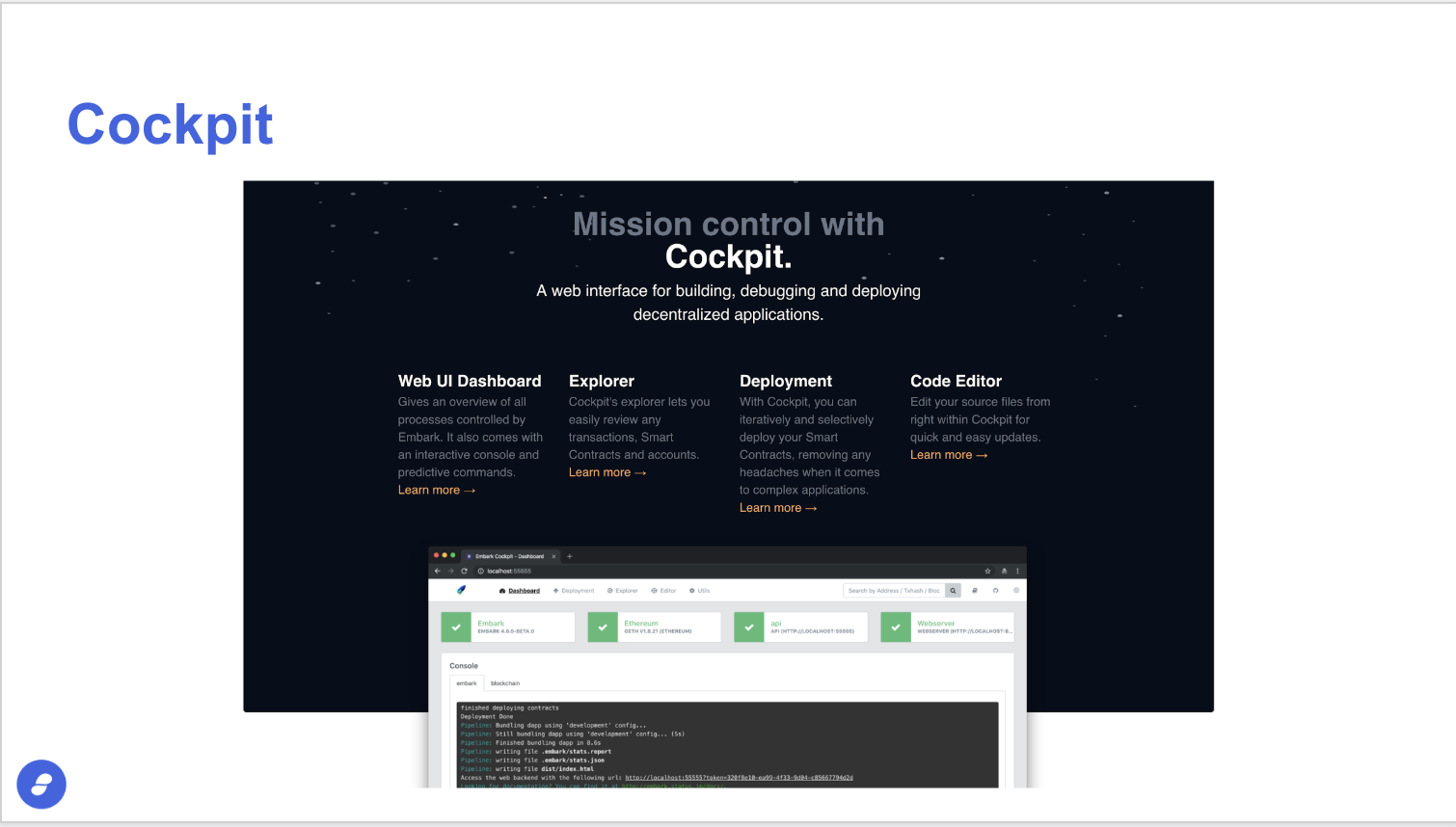 Nimbus