We sat down with #StickerHeads guest judge to learn a bit more about what he has been up to with SuperRare and Pixura and figure out what he is looking for in a strong sticker designs.
We are now one week into the design competition and things are really heating up. Remember, the contest is broken into 2 phases:
Phase 1 - Create 1-5 sticker designs that represents Status, the principles, or the Status community in any way you see fit. Share your designs on Twitter with the hashtag #StickerHeads.
Phase 2 - The top 5 designs from Phase 1 with the most "likes" and "retweets" on Twitter, and another top 5 chosen Jon Perkins. Once designs are in, we will use the SNT Voting DApp to determine the community favorites from the top 10.
Tell us a bit about yourself. How did you get involved in the Rare Digital Art Community?
As a long time Bitcoin fan, I was fascinated to watch the emergence of blockchain use cases that blend creativity and crypto, starting with Rare Pepe and other Counterparty projects, followed by pioneers like CryptoPunks on Ethereum. I started going to, and eventually organizing, crypto art meetups in NYC, where I found the community to be full of some of the most creative, intelligent and inspiring people I've met.
I've always been fascinated by the intersection of art and technology. The most exciting part about rare digital art is that it's a new source of income for artists. If you read books like The $12 Million Stuffed Shark by Don Thompson, it's no secret that the economics around art and the traditional market are pretty insane and ripe for disruption. I believe we're still in the early days of this movement, but we're seeing promising trends of artists being able to cut out the middlemen and monetize digital works directly on the internet thanks to digital scarcity.
Who are some of your favorite rare digital artists? How did you come across them?
We launched SuperRare about a year ago and I was immediately blown away by the enthusiasm and inbound interest from artists around the world. My personal tastes tend toward the bizarre, and artists that push the boundaries of the digital medium. I also love artists that blend traditional media with digital in creative ways. XCOPY, Ophelia Fu, Hackatao, and Robbie Barrat are some of my faves that you'll find in my collection.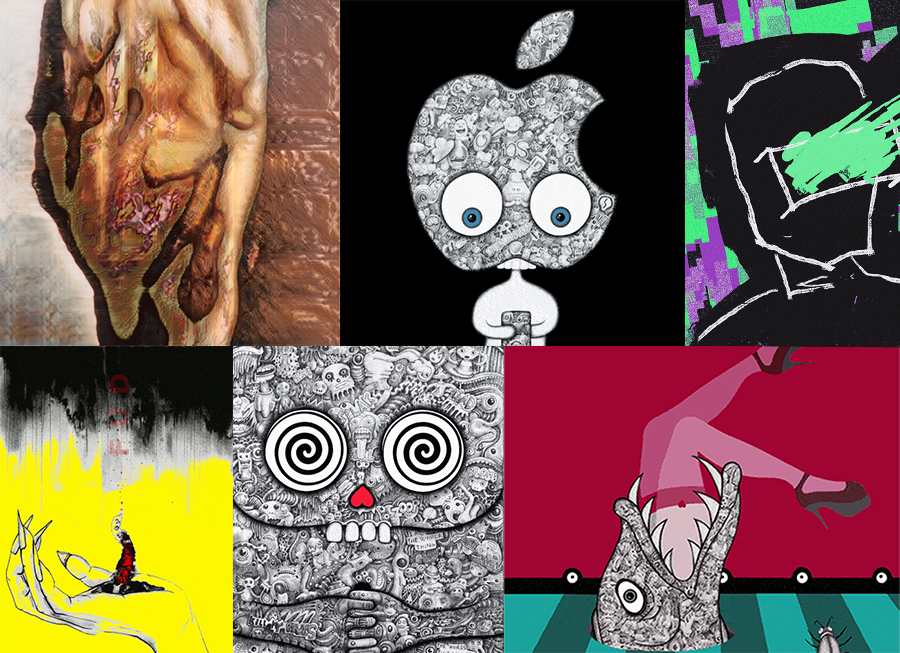 What are some of your favorite messenger sticker designs? Do you use them in apps such as Telegram?
I like original designs, as well as new takes on memes. I think of memes as the genes of information, and I'm fascinated with the way memes have entered into global internet culture and become a modern art form in their own right.
One of my most-used Telegram sticker packs is J Scrilla's All Star Sticker Pack, made by J Scrilla. I like it when artists make a campaign out of a new work, and release it into different formats/platforms. Scrilla is really good at this; he'll release a music video and song, then make an animated SuperRare album cover, a promo on Counterparty, and then the artwork will live on in the sticker pack.
What are you looking for in judging #StickerHeads? What is your personal criteria while reviewing the designs?
Originality, humor, weirdness, dankess, and panache.
Let's switch gears a bit. You are co-founder of SuperRare and Pixura (which were part of the Status Incubate Program). What is the latest with SuperRare and Pixura?
SuperRare is a platform for collecting and trading single-edition digital artworks as NFTs on Ethereum. I can't believe how the community and activity has grown in the past year. It has become the most-used crypto-art platform, with about $100,000 earned by artists so far. It's been exciting to see really active collecting and trading take off on the platform too, with an emerging class of crypto-art traders earning ETH every day, all while supporting artists around the world. Don't tell anyone, but there is going to be a SuperRare first-birthday party in NYC in April– shhhhh.
Pixura is our startup that is focused on making it easy to launch and manage crypto-collectible applications and marketplaces. After launching SuperRare (which started out as an experiment), we got contacted by a lot of creators, entrepreneurs, and companies who were interested in a software platform that would let them create and manage NFT applications. So we decided to make it a product, and I'm happy to announce that we just launched to mainnet last week!
Ben and the whole Status Incubate team were really helpful with Pixura's product strategy last year, and made us truly feel like part of the Status family. Thanks guys!
Do you have any collaborations or plans with NFT projects in the near future? What can we expect to see?
Pixura is a wide-open platform– anyone can launch a smart contract and create their own NFTs without writing any code. We've already seen a bunch of interesting projects get created in one week, and I expect to see hundreds more by the end of the year. We are also working on some exciting collaborative partnerships, which will be announced later in the year.
Speaking of the future: I think people are going to be surprised in the coming years at how big and varied the potential use cases for NFTs are. Right now NFTs are in a niche phase, and occupy kind of a narrow use case in peoples' minds. But I see them as a truly new form of internet media, a digital object that can be owned, tracked, and that can hold value. I can't say exactly where it's all headed, but I think it's going to be bigger and weirder than people realize!