Town Hall #41 brings an update from People Ops on hiring, perks, and the engagement survey. Janitor update regarding progress on V1 tasks and the impending security audit. Finally, we get an update on the V1 marketing plans.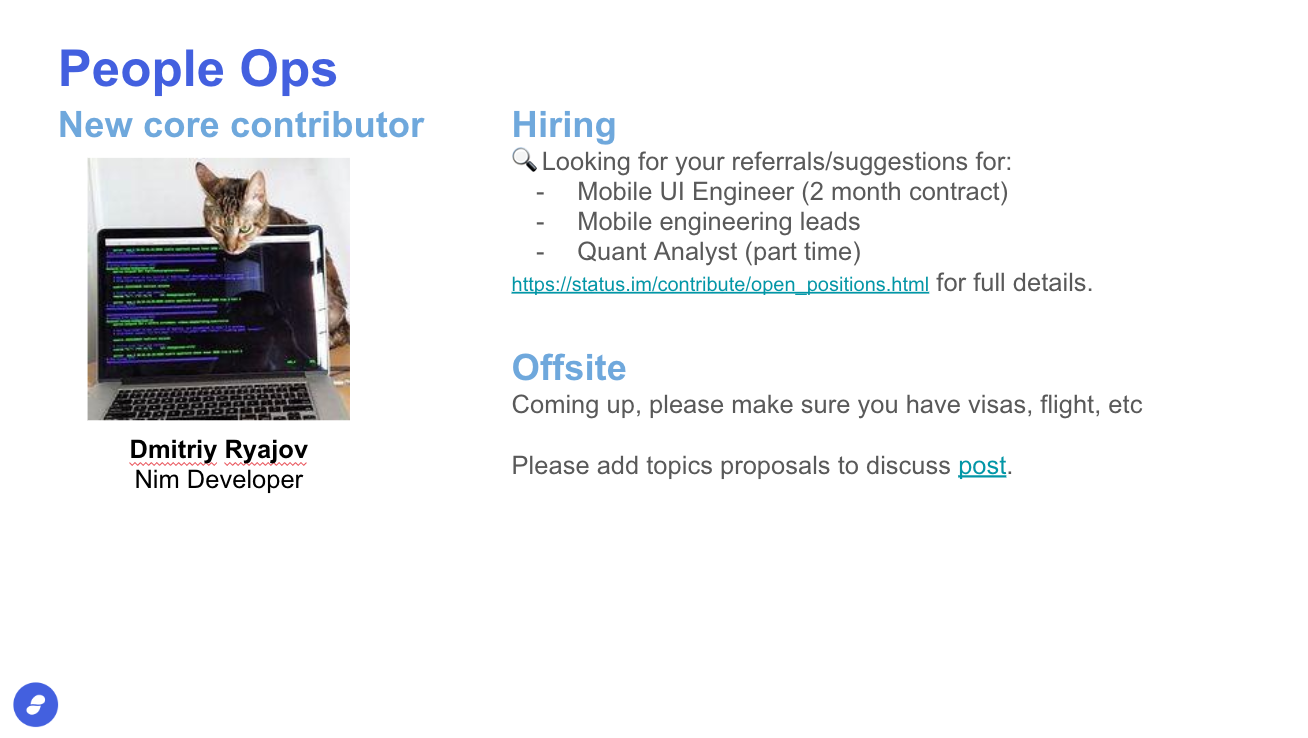 People Ops Updates on:
People Ops presents new hire Dmitry Ryajov and some open roles in the hiring pipeline.
Istanbul Offsite planning
Updates to the upcoming Q3 Engagement Survey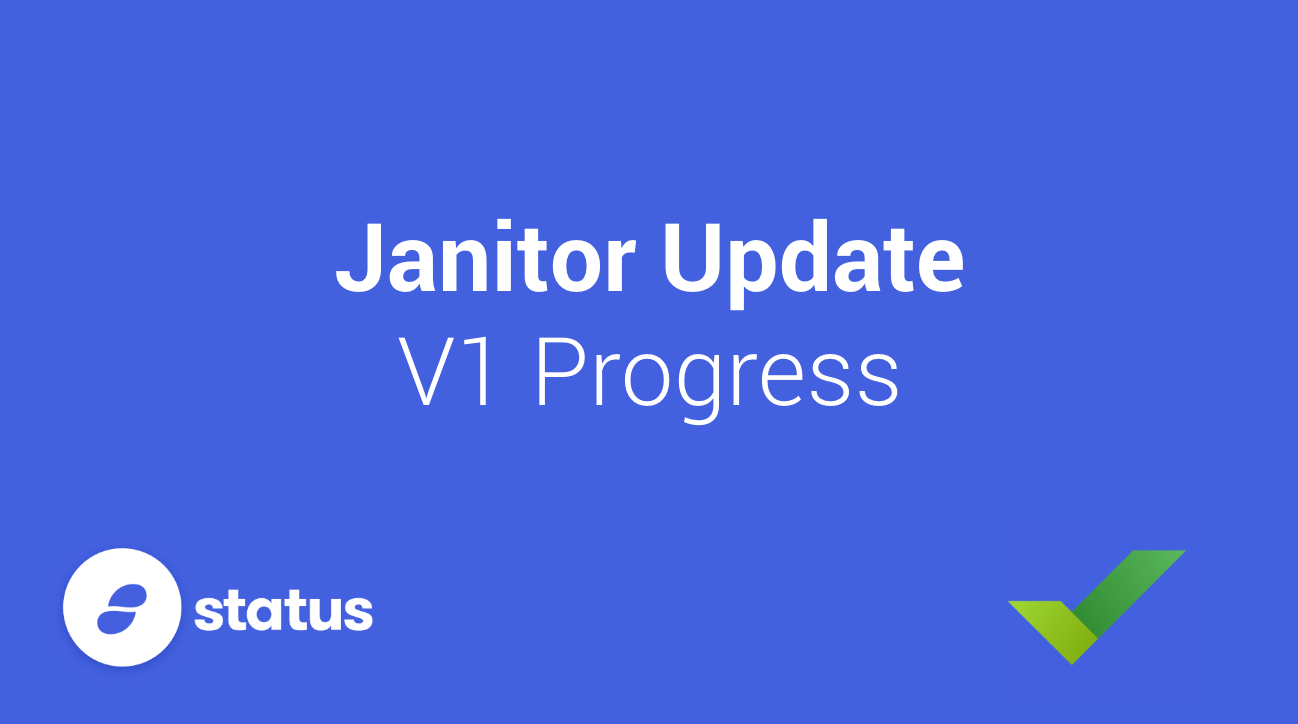 Nabil presents the decreasing backlog of v1 tasks but an update to the timeline of the security audit with Trail of Bits.
Post Code freeze:
Front end features work to continue
Once security audit (updates with security team below) and fixes are complete, release schedule can be finalized
Smaller release cycles post-release
Still on the hunt for an app engineering lead for the team as per Discuss post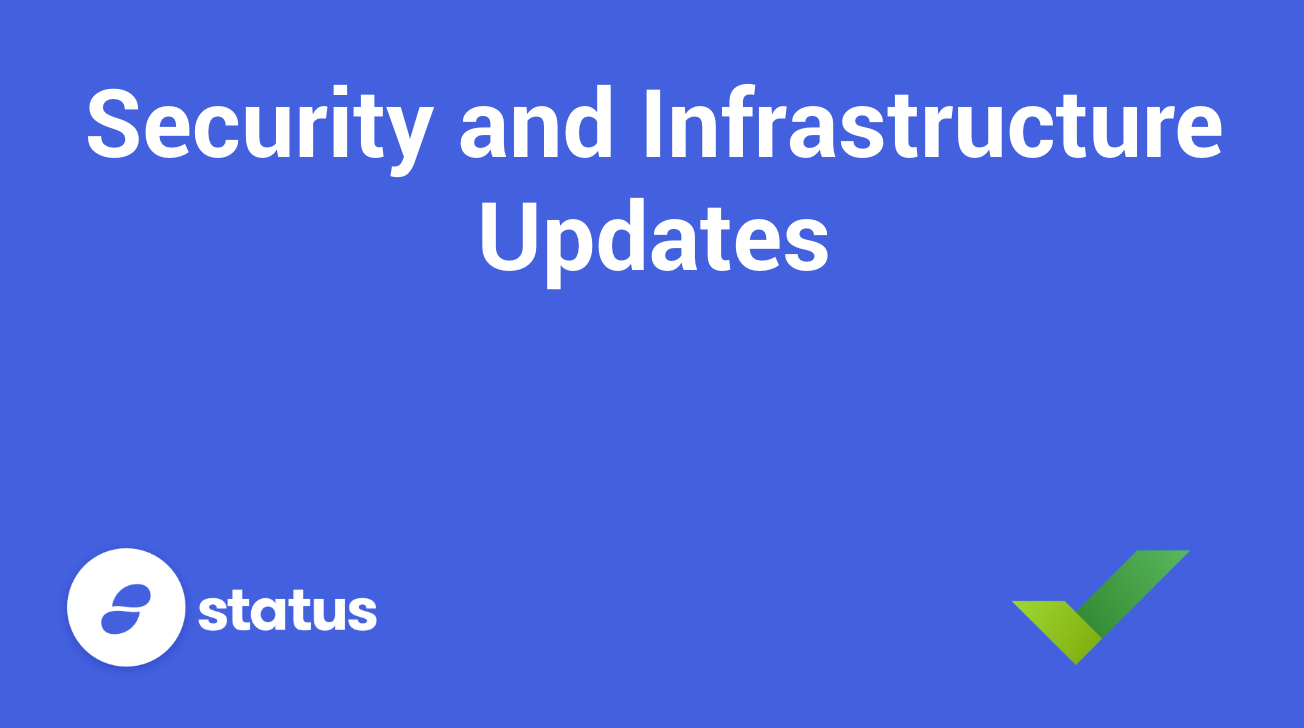 V1 audit will start end Sept/beginning Oct (working to get this pushed up)
Security and Infra updates:
Completed production infra for https://dap.ps/
Autoscalable based on load and managed by Terraform
Sharded MongoDB cluster with automated DB backups
Upgraded all infra-* repos to Terraform 0.12
Better syntax, new features like dynamic blocks, better errors
Created https://go.status.im/ for vanity Go imports
Deployed BitWarden at https://secrets.status.im/ (Invites coming soon)
Improved Security on https://status.im/ by adding CSP & other headers
Refreshed iOS signing certificates for another year
Upgraded Faucets and LES to Geth 1.9.1
Automated CI builds for new https://analytics.status.im/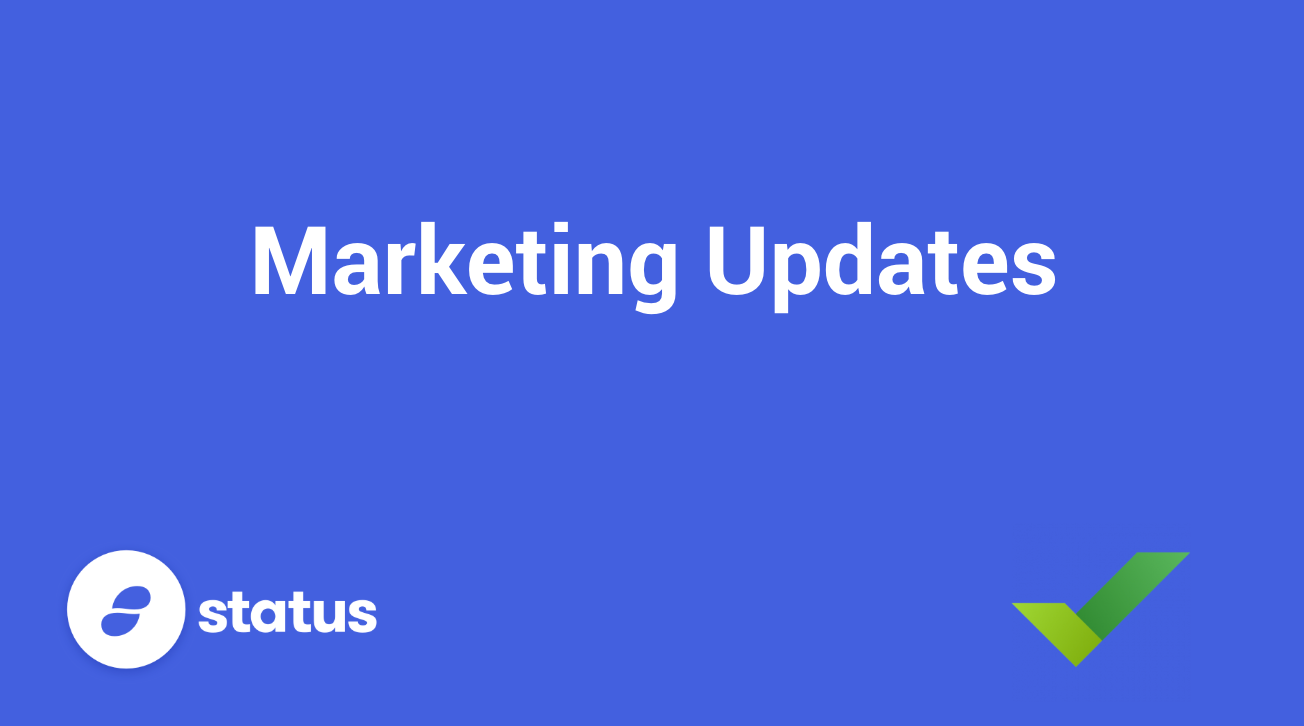 Current Events:
Berlin Blockchain Week
EthPlanet Shenzhen
Gitcoin Ethereal Blocks Virtual Hackathon
Current Initiatives
Dapp Integration Center: Documentation, Tutorials, Checklist for building and submitting a DApp on Status
V0.14.0: Awareness comms, sticker market launch campaign, PR strategy
Community: New Ambassador Page with upcoming launch campaign. Onboarding user journey
Istanbul: local meetup around Sept 11 in partnership with BCTR
Dev Rel: Developer Portal Planning
Thought Leadership: Pitching content series to mainstream publications
Translation: Ongoing campaign to translate Status (KUDOS JINHO!!!)
V1 Planning
3 Key Areas & Brand Narratives
Successfully launch and drive awareness and acquisition of v1 of Status Application
Introduce the R&D of a family of protocols for secure, private communication
Shift the overarching brand narrative from "Status: A mobile application" to "The Status Network"  

For each key area, we will aim to effectively communicate:
Brand Story - build the emotional connection to Status
Product Comms - clearly explain the product features and specs to all audiences
SNT Utility - raise awareness of SNT and its utility
Community - build long term community ties

Final Planning Now (Budgets, Tactics, CPM, CPA, Platforms & Partners, PR Agency, Production Support)
Kick off Production September 1