The next blog in a series outlining the experiences of each floor at #cryptolife. This piece details Floor 1 – which is all about the #BUIDL. After you have gone through the ground floor, received your SNT and ETH, and registered your own ENS username, hacked on the #cryptolife identity, and stumbled into a few other nice surprises, you will meander up some stairs and land in hacker heaven. This is where ideas will be shared, work will be done, and things will be built.
So here it is - a list of experiences on Floor 1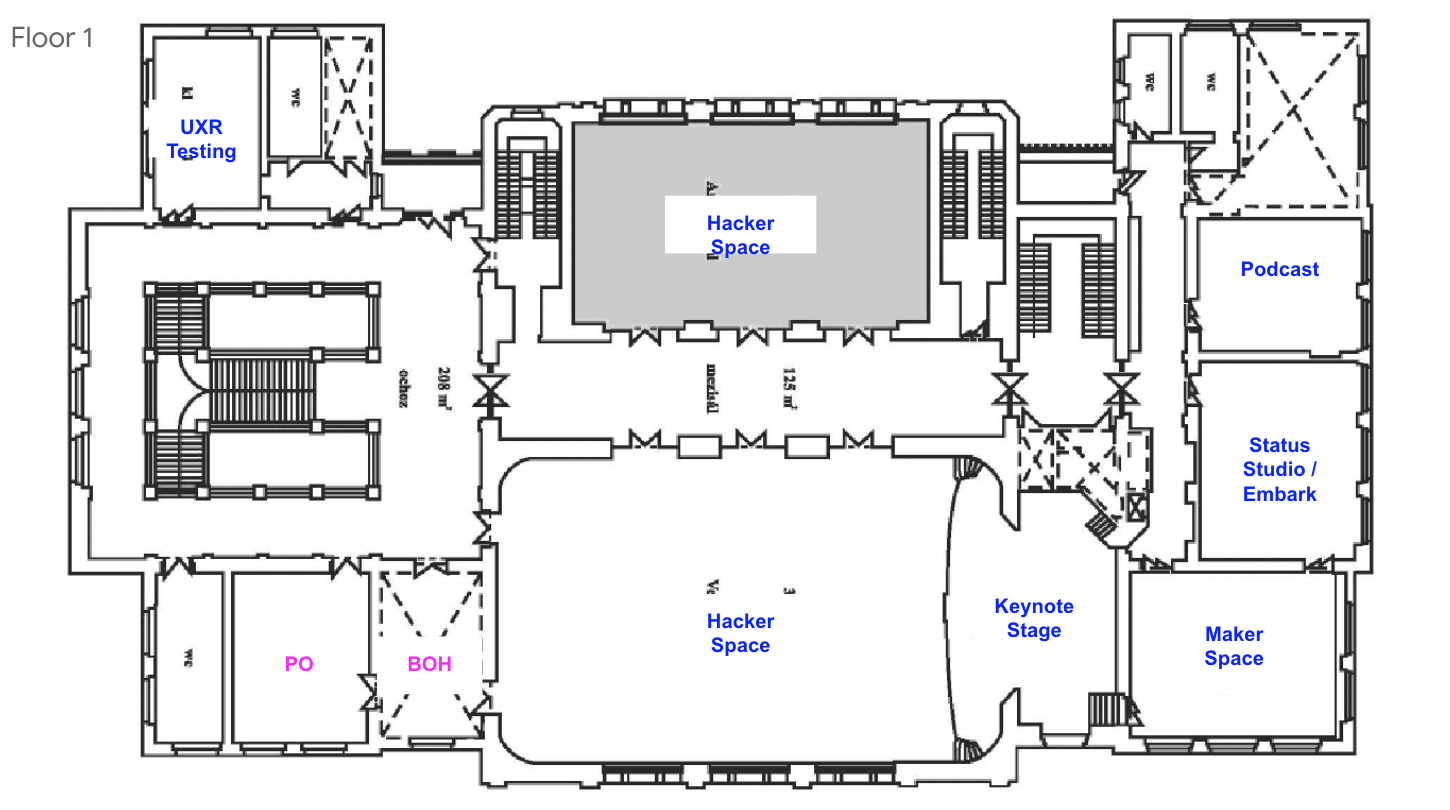 Hacker Hall East
Hacker Hall East is the larger of the two main halls. It has a capacity of 360 people and this room will be full to the brim with bright minds. It is originally an opera hall, so comes equipped with a fairly opulent, classic stage (odd for a hackathon...we know) which we will transform into an Ethereum playground. We will conduct technical workshops on Friday from the likes of Alex Van de Sande, Mariano Conti of MakerDAO, Kelvin Ficther of OmiseGo, Kyle Dewhurst of MyBit and a host of others. The sponsors will present their products and tracks of work. And the Status core contributors will be in full attendance helping out on everything from optimising for mobile, to Status Extensions, Whisper messaging, and anything else we can.
Hacker Hall West
This is the smaller of the two halls, but don't be fooled. It will be an area for focussed hacking. This room will also host workshops and serve as a dedicated area for technical deep dives into some of the most challenging issues. We hope this room produces some great projects which live on well past October 28th (it's one of our goals after all).
Status Studio + Embark Community Room
This room will house the masterminds behind Embark and Status Studio. You can think of this as a help desk on steroids. Status Studio is designed to help developers in every sense of the word (we're building an IDE and a community-run educational platform). The team will be glad to help you out and also collect any insights you may have for our work in progress.
It will also be Embark Ground Control. The embark team will likely be found hacking away at their own projects (they seriously can't help themselves) and be readily available to help anyone interested in using the Embark framework to develop and deploy their own DApp. These astronauts (as we like to call them) seem to conquer any challenge at frightening speeds; so don't hesitate to stop by and have a chat with them
The Maker Space
There is a lot planned for this room. Everything from interactive art pieces, to mesh networks. Our dear friend Addie has been working with some local Czech artists to showcase their work. The Status Nimbus team will be working with the mesh network pros from MeshBox and Althea Mesh to try and get Nimbus on a mesh box. And finally, some of the Status core contributors will be working to visualize whisper messages on the Alethio Sonifer. Without giving too much away, this room will be epic. And anyone is welcome any time to hack with the teams involved.
The Bitcoin Podcast x Livepeer Studio
The team from the Bitcoin Podcast will be joining us and running some live shows with hackers, designers, and any #cryptolife attendees. A live podcast studio streamed via Livepeer. What Ethereum hackathon would be complete without Livepeer, right? If you want to have a chat with the guys from the Bitcoin Podcast, jump into the status public chat #cryptolife and let us know. We can arrange a time slot for you to come into the studio.
UXR Testing Room
This room will be managed by the incredible Status UX Research team. They will be hosting user testing sessions to help improve not only the Status app but also gather open source data around some of the user experience problems facing all distributed technologies.