Introducing a global community effort to translate the Status mobile app and Status!
Status is made up of contributors (core and community alike) all around the world. Passionate people in nearly every part of the world contribute to the repos, spread the word, test the beta, and join in on the conversations every day. This is why we're excited to kick off a global community project to translate the Status application and Status website into as many languages as possible.
As we prepare to launch version 1 of the app, we want to ensure it is accessible and usable by anyone, regardless of their primary language.
Over the past few weeks, we have been testing out the best process and tooling for enabling anyone in the world to propose a new language and start submitting translations. We use Lokalise and this sweet new website - translate.status.im - and it is working great!
In fact, the mobile application AND website was entirely translated into Korean in less than 3 hours….100%. IN. LESS. THAN. 3 HOURS!!
And following this feat, Chinese translations were completed shortly thereafter.
Massive shoutout to Hanjun Ryu, Jay, Donghak Shin, Dongkyu Lee, Cheol O Choi, Jiyoung Lee, Taeseung Lee, Wondeuk Cho and others for their work on Korean as well as James Huang and Steven Zhu for efforts on Chinese.
HOW IT WORKS
As mentioned above, we use Lokalise and it automates the entire process in a few simple steps.
Visit translate.status.im and find your language
Select the project you want to work on – website or mobile app
Sign up to lokalise (it literally takes less than a minute)
Check the progress of the project and look for untranslated strings
Translate the remaining strings :)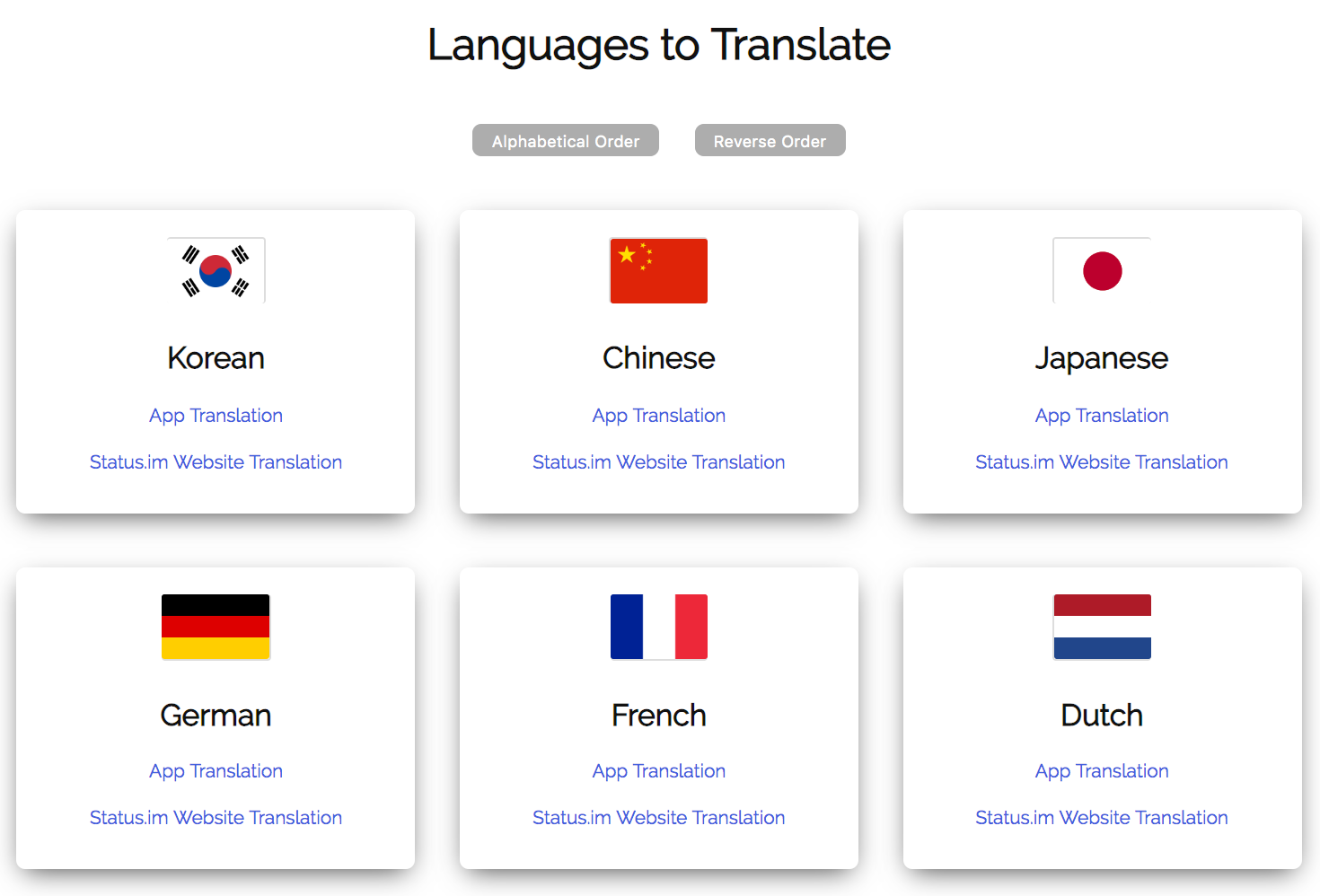 Lokalise offers useful online translators (e.g. Google Translate) showing suggestions for each of the strings and safely protects variables or string interpolation components that should not be translated. While online services are useful, we always find a native speaker understands the cultural nuances and most appropriate terms/words and will always translate more accurately.
Be sure to check out the Translation Guidelines for things to look out for… like the translation of the word Status when used as the name of the product versus in a sentence ;)
WHAT IF MY LANGUAGE IS NOT ON TRANSLATE.STATUS.IM?
No fear – it is really easy to add your language to the list, you will just need to submit a pull request to the repo. Details and instructions in the Translation Guidelines here. If you're not sure exactly how to submit a pull request, contact us at translate@status.im or in the Status public channel #status-translate and we can help out.
REVIEWING TRANSLATIONS
We want to ensure the language used is accurate and accounts for all those local, cultural nuances. Therefore, we will require a review process before anything is merged into production. Lokalise makes this very easy with the inclusion of a "Mark as Reviewed" and "Mark as Unverified" buttons to the right of each string.
This will mean we need community leaders for each language to step up to review and verify all translations. If you would like to be a reviewer, contact us at translate@status.im or in the Status public channel #status-translate.
We understand this is additional work, so we have a little gift for those who go the extra mile :).
SHOWING OUR GRATITUDE
Status would not be what it is today without the passionate community all across the globe. As a community driven project, the goal is to allow for permissionless participation – and in return, reward talented, dedicated people for the work they do.
Therefore, we've also have a little SNT reward for the top 3 contributors of each language.
So come on! Let's see how quickly we can translate Status!
Learn more and get started here.
Need to Install Status?
Access Status on iOS, Android, MacOS, Windows and Linux here