To celebrate the return of in person Ethereum events, we're introducing the EthCC Sticker Design Competition: Hot Sticker Summer 🔥
It all starts today, Thursday June 17th 2021 and it's got a prize pool of over $1,200 in SNT & Keycards for winning submissions.

As you well know, we absolutely love our sticker competitions so we thought we would celebrate our collective return to IRL events with a digital meets physical sticker combo. We'll not only be using the stickers in the EthCC channels within the Status app during the event but we'll also be printing a limited number to give away too!
The Sticker Market has been a staple of the Status community for the past couple of years and we've had quite a few notable creative collaborations to date, including our spirited Aave competition and even one celebrating the Vancouver Biennale via Art Project Decentralized! One of the best parts of the Status Sticker Market is its decentralized nature – anyone can create a pack, list a price (in SNT) and earn 100% of the profits from sales. Or Stickers can be made free for everyone to use and enjoy.

Stickers in Status have also been used as mini galleries for some of the artists in the space, giving audiences a great feel for an artist's style  - check out these stickers by famous Mexican crypto artist Moxarra (some are animated too):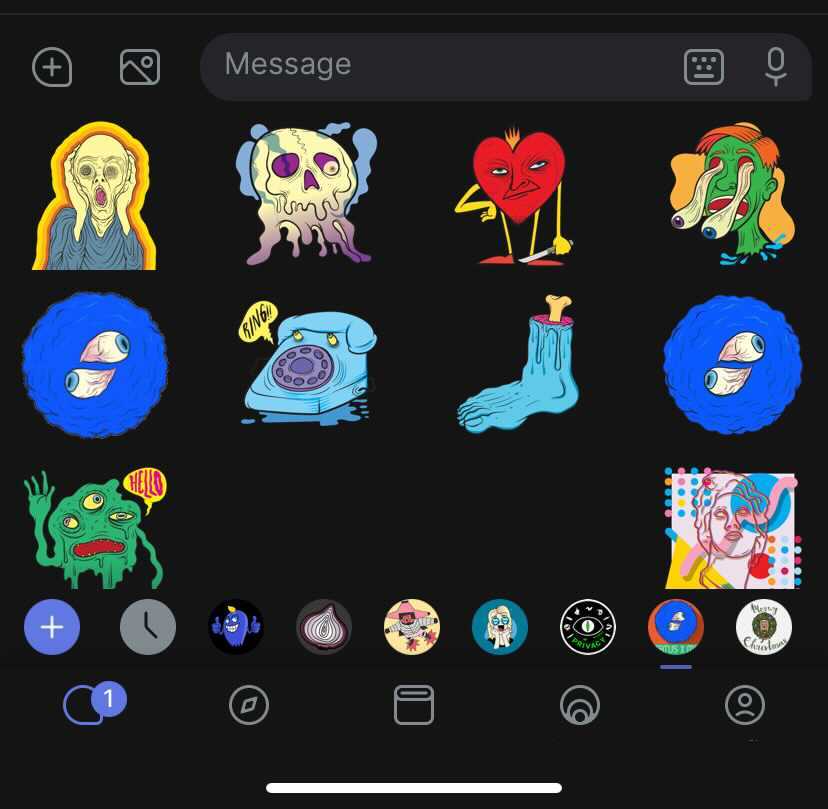 Competition Breakdown

👥 WHO: Similar to previous Sticker Design Competitions, if you're a human and love crypto (or just starting to make your way into web3), then you qualify to participate in the competition.

💭 WHAT: A Sticker Design Competition is split up into two phases:
Phase 1 - Artists create 1-5 sticker designs that capture the je ne sais quoi of EthCC: think French staples, Ethereum motifs and the strong community vibe of the event.

Artists then share their designs on Twitter, tagging @ethstatus & @EthCC, using #HotStickerSummer to mark their entries. Check out the winning designs from our Aave competition or last year's #stickerheads for inspiration...
Phase 2 - The ETHCC & Status teams will select their top five designs and those will be moved on to a community vote.
📍 WHERE: Creators should share their work on Twitter using the hashtag #HotStickerSummer. Creators can also post links to the work in the public Status channel using #HotStickerSummer for bonus points 😉

🗓️ WHEN:
Phase 1 - The contest submission starts today, Thursday, June 17th 2021, and runs until 5pm CEST on Thursday, July 8th 2021.
Phase 2 - The panel of judges will select the top five designs and we'll share them on Twitter and in the Status community for votes to decide the final leaderboard. Winners will be announced after the vote is finalized and artists have been contacted to receive their prizes - we aim to announce winners on Friday, July 9th 2021 (Monday July 12th at the latest).
Please ensure all sticker designs fit the following specs:
Supported file types are PNG, JPG/JPEG and GIF.
Background should be transparent.
Size is limited to 300kb (same as WeChat)
Square ratio
Stickers will not be available within the Sticker Market as individuals, they are only available as packs so the winner will be asked to create the additional stickers to make up the Sticker Pack. Packs range in quantity from 5-30 sticker. In order to be the winner of the competition you'll need to design a set after the vote is complete.
For some inspiration, check out some of the amazing submissions from the T-Shirt competition here. Or have a look through some other popular sticker markets.
Prize Distribution
Prizes will be distributed to the five finalists as follows:

🏆 1st Place: $500 in SNT and a Keycard. Plus the winning sticker pack will be featured as the official EthCC pack in the Status App Sticker Market & the stickers will be handed out at the IRL event.
🥈 2nd place: $250 in SNT and a Keycard
🥉 3rd place: $200 in SNT and a Keycard

⭐ 4th & 5th place: $100 in SNT and a Keycard each

*Bonus points for any Future of France features...👀

All submitting creators are encouraged to submit sticker packs to the Sticker Market at the conclusion of the contest. Information about submitting to the Sticker Market will be provided. All sticker pack revenue in the Status App goes directly to the artists who submit.

We are very excited about #ETHCC 2021 so unleash your celebratory creativity and let's get some memorable designs to mark the return to IRL Ethereum events!

*Full competition T&Cs here