ETHMagicians Congregate at #CryptoLife for the Council of Prague, Oct 26-28th
What is really magical about technologies like Bitcoin and Ethereum? Is it the ability they give us to run code without needing to trust one party? Is it the brute, but mind-blowing, fact of a shared computational resource that produces deterministic outputs according to a set of consensus rules agreed to across the planet? Is it the fact that I can walk across any border in the world with twelve words stored nowhere but my own mind, incant them in a specific order into an internet connected machine, and gain unmediated access to value?
Or is the people building it all? The community which gives meaning to our shared consensus dreams?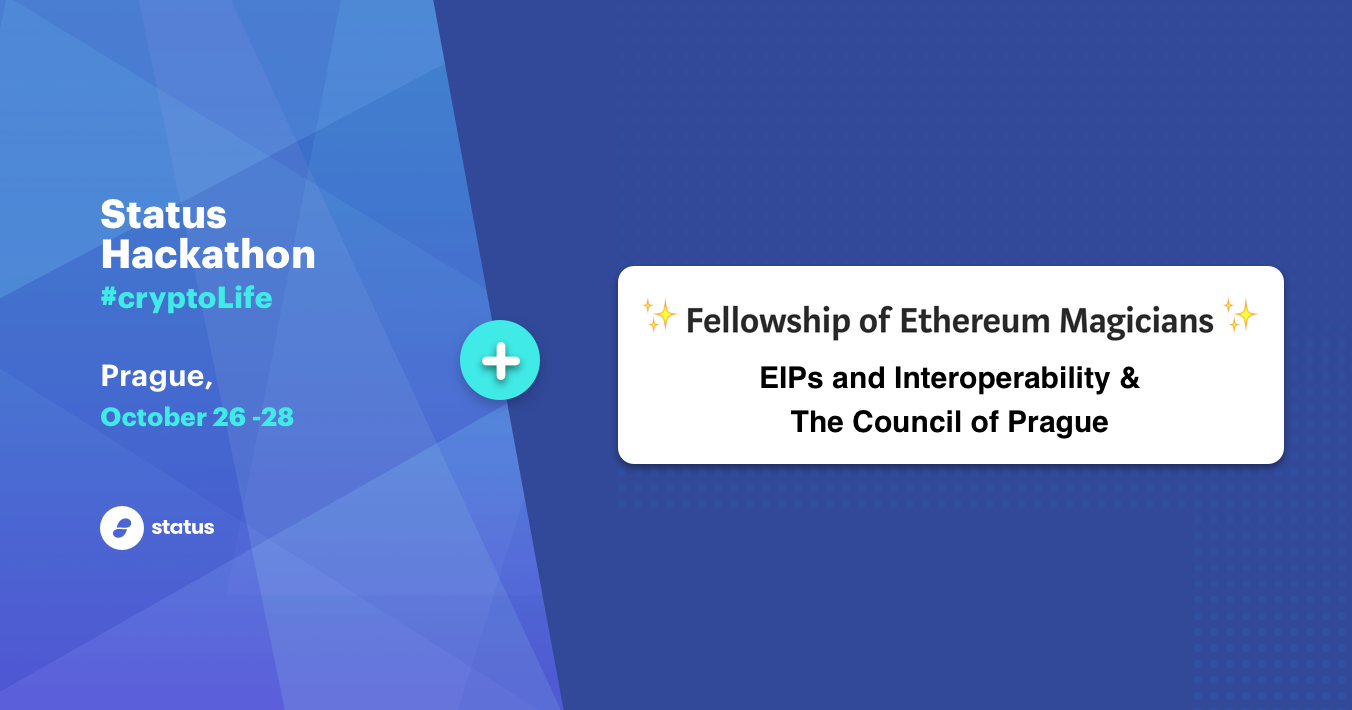 The ETHMagicians exist at the intersection of all of these ideas, and many more beside. Wizards and witches are, after all, a very diverse bunch. The initiative got started as one of many aimed at improving the social governance of Ethereum - a shared forum to discuss some of the ethical, philosophical, economic, design, user experience and other questions which are not that well suited to technical EIP discussions or research fora, but tend to be more in-depth and impactful than can be debated in Reddit comments.

They have already had an enormous impact on the whole ecosystem, organising various gatherings like the UX Unconference in Toronto and the Wallet Ring (among others). They aim mostly to generate social consensus among developers and other people building platforms, tools, products and services that all make use of our shared, global computer.

A lot of the work they do entails discussing critically, and then implementing, standards and EIPs they feel should be widely adopted in order to ensure that values like decentralisation at all layers; inclusivity; and permissionless access (as well as the education required for permissionless innovation) are upheld.

It is therefore with great pleasure that we welcome ETHMagicians to their own, unique space at #CryptoLife. This event on the 26th-28th of October at The National House Smichov in Prague is all about #buidling the things which will bring crypto closer to life. We want to make sure that people anywhere are able to access and understand web3 services and products, and then really use them in their day-to-day life: whether that's booking travel and accommodation, ordering food or a taxi, chatting with friends, conducting business, breeding cats, or whatever else you care to imagine.

ETHMagicians will have their own track called "EIPs and Interoperability" and will be working on various different standards over the course of the weekend; from EIP 948 and 1337, to 902, 1066, 1068, 1077, 1078, 1102 and a few others. There will be an additional meeting - The Council of Prague - on Monday the 29th, where all the latest spells will be discussed in detail.

Moreover, the magicians will be acting as mentors for the other tracks in the hackathon. Yes, you read that correctly: all of these awesome people will be focussed on collaboration and #buidling, but when they're not, they'll be helping you understand how to do it all yourself. It's time we all learnt how to manipulate reality, like any true witch or wizard.

For those who want to partake in this track and attend the hackathon, you still need to apply on our website. Signing up for the Council of Prague, does not automatically enroll in #Cryptolife.

The magicians will not actually be competing for any of the prizes; they're just a bunch of awesome people who want to collaborate on building the best standards and technical implementations they can. Their work enables the rest of us to bring crypto closer to each of our lives in ways which both ourselves and our communities find really meaningful. This is where true, sustainable value comes from; it's absolutely true that people are pure magic.

We'll have characters like Alexander van de Sande and friends there to present on Universal Logins and the work around 1077 and 1078, and to help teams actually implement it in their work. Alex likes doing things differently, so they will also give an award to the team they feel makes the best use of their work on ensuring we can all use Ethereum safely, securely, and privately from wherever we are.
The real magic is the people, people.

We couldn't be happier to have this amazing group of individuals from all over the world gathering with us in Prague so that we can collectively take another small, iterative step forward on the road to a better web.

Join us and you could learn all the secret spells being whispered across the decentralised networks now powering our future.
If you haven't already, apply to hack on our hackathon website.