Background
The Status Network is a model of products, tools, and infrastructure designed to work together to create a sustainable technology system for anyone to use. Dap.ps is an independent project in the Network that gives creators a place to post and spread awareness of dapps, and it's the default location that the Status Messenger dapp browser points to.
Dap.ps uses dynamic dapp ranking, a transparent ranking system using a token bonded curve curation method. Simplified, it's a fair ranking algorithm that incentivizes users to vote up dapps they really like, and penalizes dapps trying to buy their way to the top with tons of cash. You can learn more about token bonded registries from the amazing dap.ps creator Andy T. here (not the Andy of this post).
Dapps are staked using SNT, the network utility token for Status. The general idea is that by staking SNT, dapps are locking up value in the network which creates greater utility for SNT, and contributes to dap.ps as an incentive-based environment for web3 exploration.
Staking Report
At time of writing, dap.ps has a total of 242,448 SNT locked with ~60% coming from developers staking, and ~40% coming from dap.ps users upvoting individual dapps.
Dap.ps staking has been growing at a steady upward rate month over month in 2020 with significant growth coinciding with the Status Messenger version releases.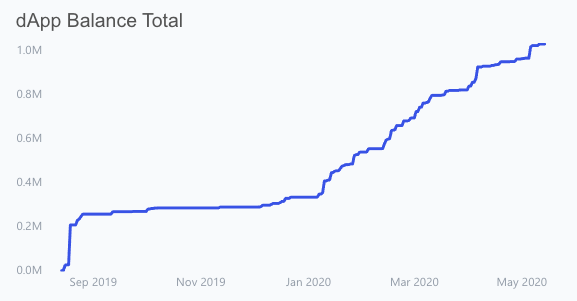 There have been significantly fewer downvotes on dap.ps, likely due to the relative youth of the project (and of course the dapps are pretty amazing). There have been a total of 4 downvotes. Dissatisfied users pay to downvote, and those funds are used to detract from the total staking amount lowering the rank, and returning a portion of the dapp's staked SNT to the dapp developers.
There has been a total of 533 SNT granted back to dapps for downvotes.
Top Dapps
Dragonereum #1
Staked 50636 SNT
Number 1 overall ranked dapp
Number 1 dapp in the Games category
Description: Earn GOLD using your battle DRAGONs. Incubate DRAGONs using GOLD. First truly decentralized game in the wild.
Dragonereum does not currently work perfectly in the Status Messenger, so for the best experience use dap.ps from a browser with a web3 wallet available.
Zerion #2
Staked 18006 SNT
#1 dapp in the Exchanges category
#2 overall ranked dapp
Description: Zerion is the simplest way to invest in DeFi from anywhere in the world.
Zerion is optimized for mobile through the Status Messenger, and there is a write up about Zerion here.
DeFi Zap #3
Staked 17420 SNT
#2 dapp in Exchanges category
#3 overall ranked dapp
Description: ⚡️ 1-click access interesting opportunities in DeFi. 💸Lending,⛽️Staking, 🦄Pooling, 🚀Leveraged Liquidity Pooling and more...
DeFi Zap is also mobile optimized for the Status Messenger, and a writeup on Defi Zap can be found here. Although there has been news that DeFiZap and DeFiSnap have merged to create Zapper. We are working on moving Zapper onto dap.ps for mobile use.
---
There are currently 42 dapps staking on dap.ps, and there are frequent write-ups of how they work on the Status blog. We encourage curious people to get the Status Messenger and try out the dapps browser to see which dapps work with your web3 needs. You can also look up these stats on dapps progress using our open source analytics tools.
You can try dap.ps for yourself. Grab the Status Messenger and join in the chats to talk with us about getting started with a little SNT, so you can start to vote and stake.
Install Status >>
Check out these DeFi Dapps on dap.ps >>
---
*Disclaimer - This article was written for your entertainment, and the content is for informational purposes only. You should not construe any such information or other material as investment, financial, or other advice. Using decentralized financial tools does not come without risks and using Status is simply a portal to these tools - Status does not mitigate associated risks of said products.