There are a ton of exciting new DeFi projects available on mobile through the Status App and dap.ps, but the reality of building in a pretty new industry is that some of them are still working out the bugs when it comes to visualization and UI.
Zerion aims to make an impact on this by creating a single location for sourcing loans, tracking your investments, borrowing, pools, and other DeFi positions.
Let's look at an example of borrowing 500 DAI.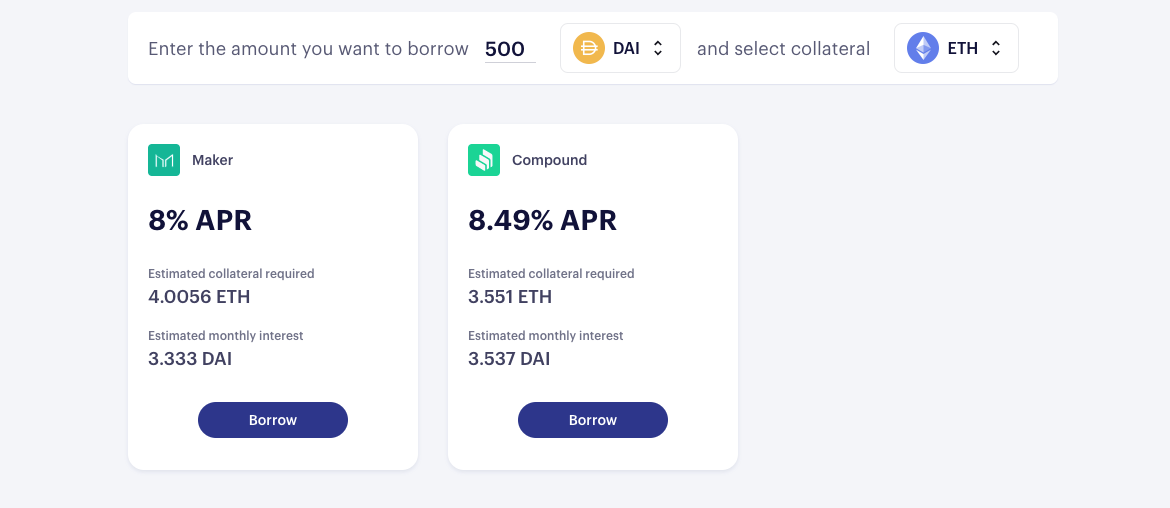 For example, on the Borrow tab, you enter the amount you'd like, the coin you'd like, and the collateral you'd like to put up. This simple interface is one of those additions to a borrower's interface that clarifies immensely what the proposition is. To do this on another lending platform like Oasis, you've got to set up a DAI Vault and put up the funds to see what costs you'll have and rate you'll have. This might work for seasoned financial pros or Whales with DAI to play around with, but for many new users it's intimidating and scary to just start locking up interest rates and see what happens.
Zerion's UI gives you information up front, compares it across available services, and sets up the right flags and warnings for the user on the way through the journey. This translates into an intuitive and clear UX.
There's also a one-stop-shop value with Zerion. If I want to collateralize a loan with SNT, but I only have ETH, I usually need to go to Uniswap or Kyber to manage the transaction and come back to my lending platform. This interface combines it all in one, so I can go exchange, track my portfolio, research another position, and re-invest some spare DAI all in one interface. This approach is especially helpful for mobile since switching screens and sites is possible on mobile, but frankly it's not the greatest experience for ANY application, let alone web3.
Zerion is another project that warms our hearts at Status. Web3 needs to have many entry points for the incredible range of people who need DeFi. Zerion makes it easier for people to visualize and track what's possible with a DeFi wealth portfolio.
Come join us in checking out Zerion on Status. Get the Status App and join in the Zerion chat channel #app-zerion-io, and let's talk DeFi.
Check out these DeFi Dapps dap.ps >>
---
*Disclaimer - This article was written for your entertainment, and the content is for informational purposes only. You should not construe any such information or other material as investment, financial, or other advice. Using decentralized financial tools does not come without risks and using Status is simply a portal to these tools - Status does not mitigate associated risks of said products.