Dap.ps is on a mission to make the most useful, mobile-optimised and beautifully-made products on Ethereum accessible to everyone. Sablier certainly meets these standards, and brings a whole new experience of what money might come to mean as web3 grows. So, let's talk about real-time finance on Ethereum, and streaming money from your pocket.
Why would you want to stream money in "real-time", and what - really - are the advantages to doing something like this? In short, streaming money means:
Paydays become a thing of the past by earning your salary in real-time
The need for payday loans becomes greatly diminished
You can verify that you're being paid now, not trust that you will later
Organisations stop wasting billions of $ on accounting, invoicing and timestamping, where money streaming can do better.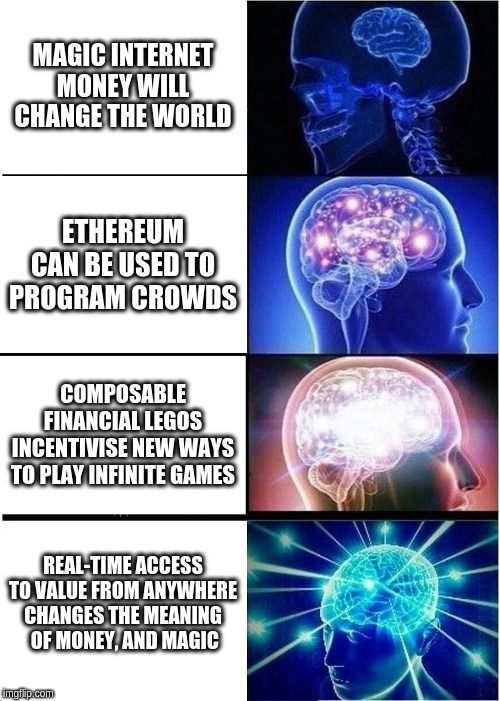 It's not just about replacing payrolls, though: it's a "protocol for real-time finance". As always with interesting new web3 projects, the room for experimentation is vast:
continuous kids allowances
pay-as-you-go coworking spaces
under-collateralised lending
granular insurance
user-centric subscription plans  
so-called 'social money'
And many other ideas that you can find listed in this Twitter thread.
How can you use Sablier?
In a web browser with a web3 wallet extension, or the Status App, find Sablier and connect your wallet. In the Status App you can say hi in the #status channel and also ask for a little help getting your wallet set up if you need.
Sablier makes it pretty straightforward to set what token you'd like to use, who you'd like to stream to, and how long the stream should last.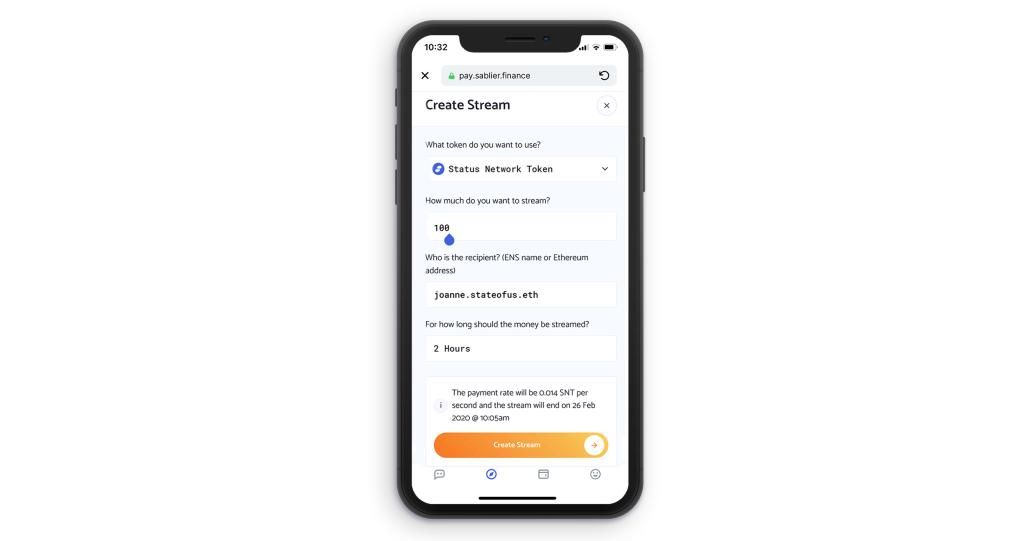 There are transaction fees in ETH, so you do need a bit to setup a payment stream. We found about $1.00USD worth of ETH sets up a stream for $0.20, $10.00, and $1,000.00 (the recipient will also need ~$0.30 GWEI per transaction to withdraw).
Then you'll get a link to share with the recipient so you both can track the stream during the time specified.
Sablier has a nifty UI animation that shows the growing stream over time, and the money simply moves from one address to another.
Anytime during or after the stream the recipient can withdraw funds and get paid. We tested this using Ethereum addresses, ENS names, and within the Status App from dap.ps, we also successfully streamed to name.stateofus.eth names.
At The Status Network, we're always happy to see genuine innovation flourishing across the ecosystem. We're even happier to play our small part in making sure the most useful and creative parts of that innovation are prominently showcased for ordinary people to use. Sablier is currently ranked 5th overall on dap.ps, and 1st in their chosen Category in the store - so if you like this idea and agree with us that it is worth featuring, consider upvoting them with a little more SNT.
The Sablier team uses their own protocol to pay themselves. This kind of dogfooding is exactly the sort of social skin-in-the-game signal we're looking for from awesome DApps to feature in our store.
---
Dap.ps Development
In other news, dap.ps has achieved its first funding goal using an awesome new project that implements Liquid Funding: Assemble. Liquid Funding was an idea that began life with GivEth and Jordi Baylina some years ago, and it's magical that it is now actually a thing. Stay tuned for a full post detailing all the changes v2 of Dap.ps will implement as we move toward total decentralization.
---
*Disclaimer - This article was written for your entertainment, and the content is for informational purposes only. You should not construe any such information or other material as investment, financial, or other advice. Using decentralized financial tools does not come without risks and using Status is simply a portal to these tools - Status does not mitigate associated risks of said products.