1. Welcome
Welcome to the latest edition of the Status Network Quarterly Report  – Q2 2021. As always, there is A LOT of work happening across the entire ecosystem of projects including the Status Mobile and Desktop apps, Nimbus, Waku, Keycard, and some exciting new projects.
From the core Status Application, to censorship resistant messaging protocols, to infrastructure R&D, the team continues to build the tools for private, secure communication.
2. Status app
MOBILE APP
Throughout Q2, the team focused on some key new features and updates that will transform Status into a true Web3 community tool all while making improvements to the core offerings including the messenger, wallet, and dapp browser.
V1.13 Release: Socks, Spam, and Keycard – This release introduced the first rendition of the "Activity Center" where new chats and group chat invitations appear and you will be able to accept or decline the request – giving more control and preventing invites from spamming your chats feed. This release also introduced message delivery confirmations.
V1.14 Release : New Keycard Features and UX improvements – This release makes setting up your Keycard simple by removing the PUK and pairing codes from the onboarding experience. A factory reset is also available which is useful if you're using Keycard with a new Status account and simply need a hard reset of your smartcard. Finally, you can now recover or backup a Keycard directly from the Status login screen. V1.14 also introduced some nice chat improvements such as highlighting posts that mention you, an unread message counter for mentions, and the ability to manage sync chat history.
Significant progress was made on some of the community based features which will be rolled out shortly. The team has also kicked off a total redesign of the crypto wallet for more seamless UX and eventual support for L2 solutions.
DATA AND RETENTION
In Q2 2021, the Status App was installed over 502k times (1.3M in H1) through Google Play and the App Store.
Nearly 470,000 New Google Play users were acquired during the time period, and there were over 530x,000 active installs on Android across 210 markets and over 120 languages.
On average there were 12,000 Daily Active Users.
DESKTOP APP
The team has been on fire as of late making incredible progress on bringing Status to your desktop. They reached feature parity with the mobile app in Q2 and continue to introduce new features and improvements.
The product is still in beta but has more core functionality including:
P2P messaging with Waku
Integrated Ethereum wallet - available to toggle in advanced settings
Web3 DApp Browser - available to toggle in advanced settings
Status timeline
Support for Communities - available to toggle in advanced settings
Suite of UI features such as native OS notifications, link unfurling, profile pictures, file attachments, emojis, mentions, reactions, and many other UI improvements
App is now Notarized & Codesigned in Windows & MacOs
Waku v2 currently in the advanced settings for early tests
Support for Contact Request, Pinned Messages, Activity Center
The Desktop App still hides the wallet and browser tabs by default while still in beta. But with the progress being made by the team, the goal is to conduct an audit and move out of beta in the coming months.
The latest Desktop beta can be downloaded for Mac, Windows, and Linux here.
3. SNT utilities
The Status Network Token (SNT) is the utility token that powers and incentivizes the Status Network.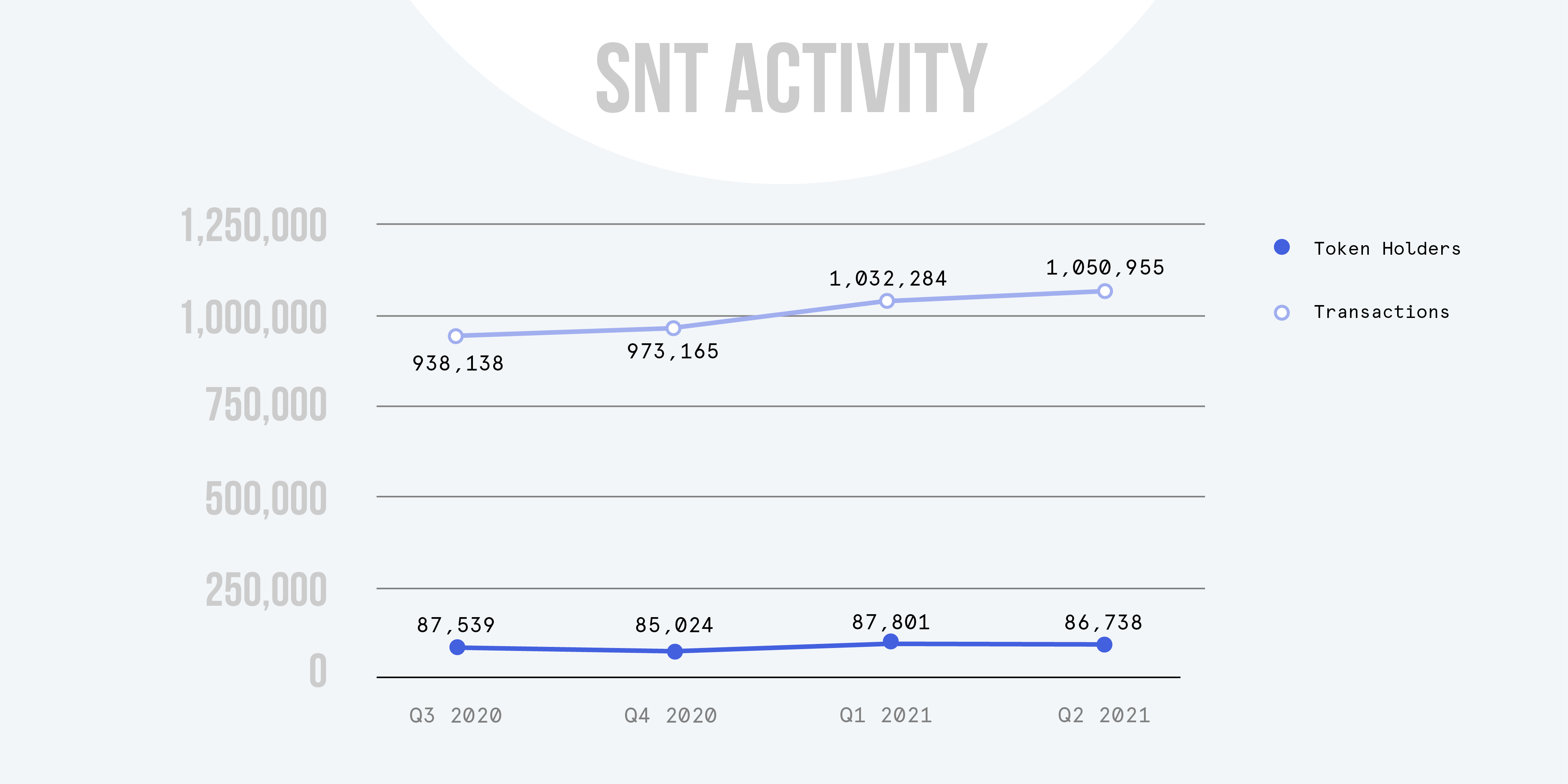 There are currently 86,776 SNT holders, with 1,052,445 transfers made to date (as of July 20, 2021), and a total supply of 6,805 million SNT. You can see more token metrics here, as well as our own SNT analytics dashboard over at: https://analytics.status.im/.
Many SNT utilities are designed as microtransactions within the application and network itself. However, with gas prices hitting crazy levels, these transactions became less realistic considering the expensive network fees.
This led the team to further analyze and investigate Layer 2 solutions that are suitable for Status.
Checking in on our SNT utilities live and in development, we have:
Live
ENS Usernames - An ENS username is a stateofus.eth handle that users can register by locking up 10 SNT, giving them a more human readable username than a contact code. There are currently 5,008 ENS usernames registered by 1,926 owners, with SNT 49,820 locked in the contract.
Dap.ps - A curated list of DApps that relies on a unique economic mechanism to rank information without any centralized authority benefiting. A new Crypto Onramps category was added for seamless access to purchase crypto from the Status App via outside third party partners. Tons of new DApps featured on dap.ps such as:
Sorbet Finance - Automated trading strategies on Uniswap, powered by Gelato.
Reflexer - Deposit collateral and borrow RAI.
NFTKEY - Discover, collect and trade NFTs on Ethereum and BSC.
Teller - The source code and documentation for this project is live and available for open deployment at teller.exchange. The future of Teller is in the hands of the community.
Sticker Market - A marketplace for artists and creators to upload and monetize their design work by selling sticker packs directly within the Status app in exchange for SNT. Lots of cool new stickers available for free and for purchase with SNT.
Node Incentivization - This SNT utility is designed to create a framework and incentivization structure for people to deploy and use Status nodes. In Q2 2021, Status launched a pilot program in South Korea, inviting 20 participants to set up and run free Status Nodes. No crypto-economic incentives were built into the program yet but this allowed us to learn about the set up process in preparation for the official launch of the feature.
4. Product and swarm updates
Keycard
As mentioned above, Keycard made some major improvements to the overall experience.
In March, Keycard was finally integrated with iOS.The iOS integration includes all the same benefits as Android and can be used with iPhone 8 and above.
Removal of PUK and Pairing Codes from onboarding - Version 1.14 removed the PUK (Personal Unblocking Key) and pairing codes from the onboarding process, making it much smoother for users. These codes can now be optionally set under Profile >> Keycard. (Now the PUK code is only required if you forget your PIN and would like to reset it.) The pairing code is used if you would like to use your Keycard with another device.
You can always reset the card with the associated 12-word mnemonic phrase should you choose not to manually set a PUK or pairing code.
Factory Reset - You can now easily factory reset your Keycard. This is useful if you can't use your card anymore because you lost access to it (lost Pin+PUK, lost pairing code), or because you want to clean any secret from the card.
Creation of backup cards - You can now create one or several backup(s) of your keycard. You need to type in the seed for this operation. Back-up cards are useful if you want to have duplicates of your card that you can use with your status account.
Learn more about Keycard and get your own at keycard.tech.
Embark
Active work on the Embark Framework has been on pause, as the Embark team has been focused on building the Status Desktop app, as well as integrating Embark with Status, so no updates to report for this edition.
Nimbus
Launched Fluffy, an ultra-light client for Ethereum. In a sentence, we'll be joining the Ethereum's Foundation Portal network team as one of the launch clients for the portal network. What we're talking about building here is the perfect client for a wallet. An ultra-light client that contributes to the network and does not require syncing (i.e. is immediately usable from a fresh install or after being offline). As such, one of the end goals for us is to embed this sort of client directly inside the Status app. This has the potential to both improve the security and privacy of our users (we'll no longer have any reliance on Infura), as well as improve Ethereum's resilience by allowing each user to contribute back to the health of the network.
Significantly expanded our Ethereum 1 team: renewed funding from the EF to accelerate the development of nimbus-eth1 (execution client).
Nimbus-eth2 (consensus client): Shipped v1.1, v1.2, v1.3, and v1.4 (see release notes and updates). From the user's perspective, highlights include significant improvements to both profits (attestation effectiveness has been significantly improved) and resource consumption. (CPU usage has been cut by over 50% since last quarter!) Together, these updates help secure Nimbus against future network growth and provide us with a higher security margin and substantial profitability improvements.
Widely shared article highlighting eth2, and in particular Nimbus' energy efficiency - Ethereum is green.
Launched devnets for the first planned upgrade of the Beacon Chain - Altair. Positioned well for mainnet launch.
Nim-status
Nim-status is a project that implements the current backend library status-go in the NIM language, with the goal of bringing closer integration with the Nimbus and Vac projects and bringing Waku v2 into the mobile and desktop app.
The team implemented several status-go APIs and functionality, some examples include Status Accounts, Contacts, Mailserver, Usernames, Identicons, Chat and Messages (and related features), Contact Management, Wallet accounts, tokens, transactions, dapp permissions, web3 provider, and other functionality needed such as nim-sqlcipher, protobuffers. Also work was done on NIM's concurrency model, as well as the NIX integration to be able to integrate with status-go and status-react.
The project uses a terminal client to test functionality, the basic functionality is being implemented and working with Waku v2 with current focus on implementing the Status protocol itself and the wallet functionality.
Vac
Vac, the team behind the underlying messaging protocol in use by Status, has been heads down working on Waku v2. Waku v2 is a general-purpose private p2p messaging protocol that seeks to address some of the limitations of Waku, such as scalability. A summary of its motivations and goals can be found here.
During Q2, the team has put a strong priority on dogfooding nim-waku and on improving its stability. Here is a list of some key Waku updates:
nim-waku 0.3 and 0.4 have been delivered: https://github.com/status-im/nim-waku/releases/tag/v0.3 and https://github.com/status-im/nim-waku/releases/tag/v0.4
Core contributors are now collaborating over #waku toy chat Huilong testnet
Many spec improvements at https://rfc.vac.dev
10/WAKU2, 13/WAKU2-STORE, 15/WAKU-BRIDGE (draft), 16/WAKU2-RPC, 18/WAKU2-SWAP (draft), 19/WAKU2-LIGHTSWAP (draft), 2/MVDS, 20/ETH-DM (new), 21/WAKU2-FT-STORE (new), 22/TOY-CHAT (new), 23/WAKU2-TOPICS (new, draft), 4/MVDS-META.
General research progress on a number of topics
Store data synchronization: https://github.com/vacp2p/rfc/discussions/384
DNS based peer discovery: https://github.com/vacp2p/rfc/discussions/385
Adaptive node capabilities sharing: https://github.com/vacp2p/rfc/discussions/374
SWAP soft mode: https://github.com/status-im/nim-waku/issues/524
FT store protocol: https://github.com/vacp2p/research/issues/64
A new team called "DappConnect" has been created. Its mission being to develop and facilitate the usage of waku by dApps in the Ethereum ecosystem. You can read more about the DappConnect mission on this blog post.
Here is a list of what this team has accomplished in Q2:
Community and Marketing
Q2 was focused around market research and community building in preparation for the exciting new communities based features.
The team tapped into the growing trend of "Crypto Social" and began producing content and conversations in order to position Status well ahead of the introduction of upcoming communities based features. The team engaged across social media, long form discuss forums, and produced blog posts highlighting the perils of legacy web2 social networks with articles such as WhatsApp & Facebook are taking your privacy, Reddit: Centralization erodes privacy, Reddit has decided the bounds of your thought, and Web2 Social Pitfalls.
The team also pulled together a shortlist of decentralized social networks in existence today – showcasing some of the amazing DAOs, NFT Marketplaces, Social Token Platforms, and Content Creation networks.
Status continued to grow and garner attention in Latin America with the launch of localized Instagram channels in Spanish and Portuguese. Status was also regularly featured in the press throughout the region. Community members and influencers alike continue to drive conversation about Status across social channels and press.
Status also continued efforts in South Korea with a pilot of "Phase 0" of the Status Node program. In this program, we invited 30 participants in the country to set up a free Status Node for 3 months. Out of 30 participants, 21 people (70%) verified that they had run their Status Node for 3 months and received some thank-you gifts for helping propagate messages in Status.
Also, Status kicked off a Youtube channel for the Korean community in June and published 7 videos until now. One of the Korean ambassador interview videos got 580 likes on Facebook.
To celebrate and engage the amazing artists in the Status community and the return of EthCC, Status kicked off the EthCC Sticker Design Competition: Hot Sticker Summer. The competition saw some amazing designs from around the world. Congratulations to @F3alimi with the winning design for the Gallic Rooster.
5. Conferences and events
To raise awareness of the Communities features and push the narrative around crypto social, Status was a community partner for the Creators and Communities Summit in May.
Finally, the team was making preparations for involvement at EthCC which took place in July.
6. Funding
Project financials
For ease of reference, we report our financial data in USD. Cryptocurrency amounts are translated to the rate of the day when the transaction is recognised.
Strategy
As part of our strategy to ensure the long sustainability of Status' projects, we keep enough Tier 1 funds to ensure a 3+ years runway of operations.
The assets position in Treasury is as follows:
Total assets in treasury: 372.6 million USD
Tier 1 assets (fiat & stablecoins): 45.8 million USD
Tier 2 assets (crypto): 117 million USD
Tier 3 assets (SNT): 72 million USD
Tier 4 assets (SNT Reserve): 137.8 million USD
Given our assets position, the runway is as follows:
Total runway for Tier 1 and Tier 2 assets: 129 months
Tier 1: 37 months
Tier 2: 92 months
Tier 3: 57 months
Tier 4: 108 months
7. Contributors
It has been an intense growth quarter for what concerns our people. We closed the quarter 87 Core Contributors strong, and counting!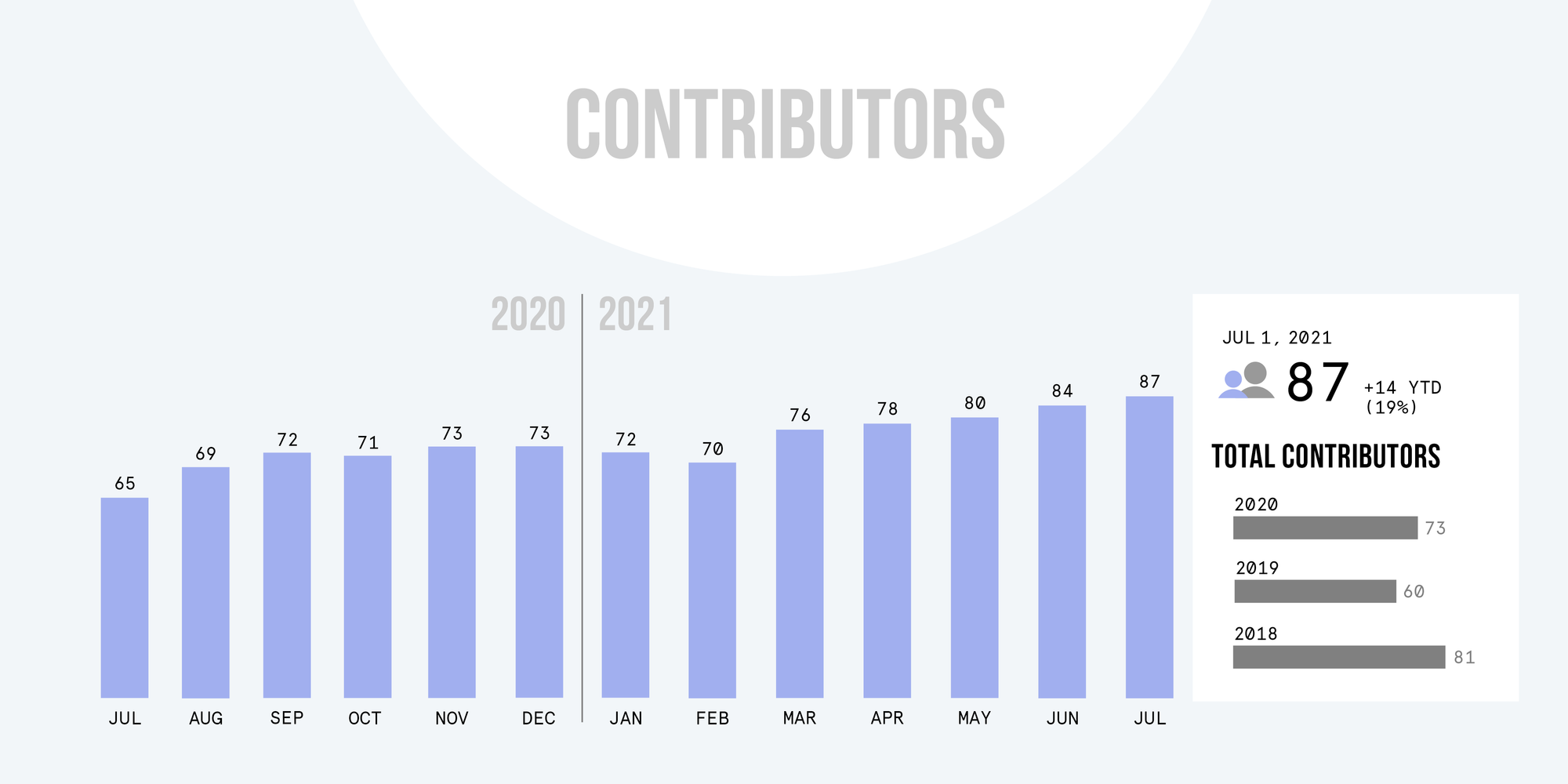 A massive shoutout to all the newcomers - we're so happy to have you joining us!
Boris, Nastya (such a happy return to the project) Aleksandar and Carl are bringing amazing skills to Desktop and Design;
Ebube (Vac), Konrad (Nim), and Tanguy (Dagger) have come to enrich the R&D projects;
Serhan has joined forces with the Infra and Security team;
Alvaro has come onboard to spearhead our research on Consensus;
Nick to focus on Social Media Marketing
Sabin and Angel to help us make all this and more possible, as technical recruiters.
This brings the project turnover rate to 1.6% on a monthly basis. Yay!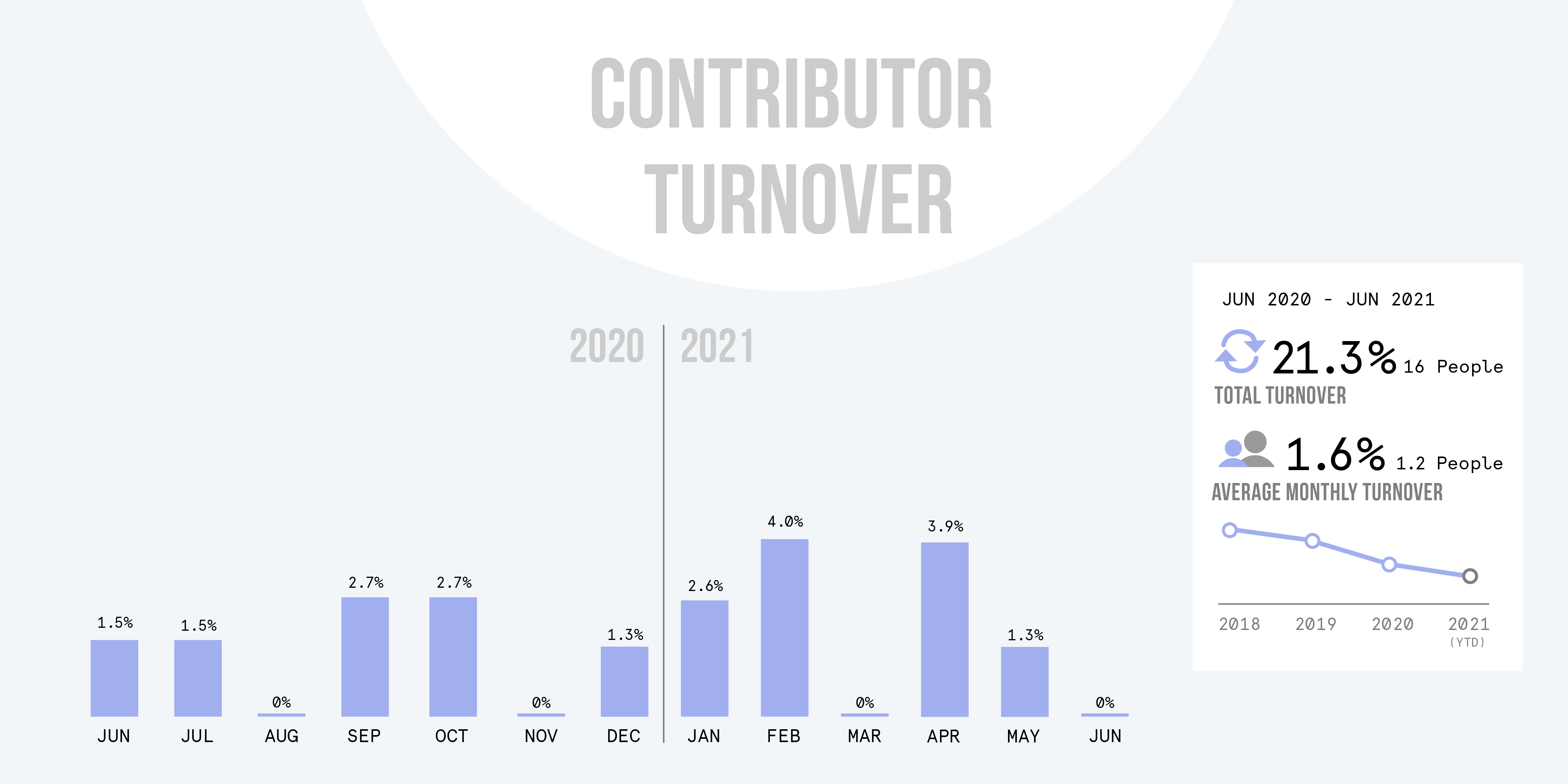 We're still looking for people to join us - particularly on the Mobile app UI side and Waku js, as well as many many other roles. If you or someone in your network would like to contribute with us, send them our way.
Ambassadors
We refreshed the Status Ambassador program with a new task board and policy. More than 60% of legacy ambassadors continued their role as a Status ambassador and are reheating the ambassador program with their skills or interests.
Status ambassadors completed 63 tasks from April to June, broken down by category into: events (8), content (41), community building (1), and technical (13).
Please fill out this form if you'd like to become a Status ambassador to represent Status in your region.
Translations
Status is made by contributors all over the world. If you want to help translate Status into your language, visit translate.status.im.
Status translation
Support 20 languages
English, German, Spanish, French, Portuguese, Italian, Russian, Greek, Turkish, Indonesian, Arabic, Filipino, Korean, Japanese, Traditional Chinese, Simplified Chinese, Bengali,Vietnamese, Dutch, and Polish
30 contributors translated 14,546 words
Status.im website translation
Support 17 languages
English, Spanish, Portuguese, Simplified Chinese, Traditional Chinese, Korean, Japanese, Russian, German, French, Italian, Polish, Greek, Filipino, Malay, Indonesian, and Arabic
18 contributors translated 16,589 words
Many thanks to our translation heroes in Q2:  Sveltlana, Zaina, Tanguy, Marie, Erol, Nasib, Andrea, Haruki, Kenneth, Maria, Kuanghen, Albed, Floyd, Steven, Seweryn, Mr. Twister, Pieter, Jovan, Adrian, Dylan, Yasin, Marco, Jose, Thiago, Susi and Pedro.
8. Marching Towards the Mission
Q2 2021 was an important period for the entire Status Network with significant improvements to the core application and much progress made on the features that will transform Status into a powerful crypto community tool. We're excited to share this work with everyone very soon.
At an infrastructure level, the Nimbus and Vac teams continue to make great strides in bringing private, secure communication of all forms to mobile devices and resource restricted devices. Nimbus is shaping up to be the most energy-efficient Eth2 client. Waku is steadily progressing into the communication layer for Web3. The Vac team is making steady progress on Waku v2 and working on some exciting new projects designed to empower Ethereum projects with decentralized communication.
Development velocity is high, and strategies are in place to roll out all this exciting work in the months to come.
Thank you for reading this report. We're always excited to tell you about the work we do. Here's hoping that wherever you might be, you're safe and well. Take care!
- Your friends at Status
Disclaimer / fine print
This report was made for your entertainment, and we'd ask you not to rely on it for any other purposes, e.g. making investment decisions. Just to be super transparent, we want to highlight that:
Token metrics information is an estimate supplied by a third party, given for illustrative purposes. We have not independently verified or fact checked this data.
Financial information provided is based on available data as of the date of publication and may be subject to adjustment after release of this report. Numbers have been rounded for ease of presentation.
Thanks for your understanding!