Learning about crypto for the first time is usually somewhat a complicated & difficult journey. In a bid to help new members joining the Status community, I'll be writing a series of articles explaining some of the basic things you need to know to get yourself acquainted with Status & the cryptocurrency space.
In today's article, I'll be talking about the Status mobile wallet.
The Status Mobile Wallet
As explained in the welcome guide, the Status App is a combination of a Private & Secure Messenger, a Non-Custodial Wallet & a Web3 Browser.
The Status wallet allows you to store & transact cryptocurrencies safely. It is also integrated with the Messenger & Web3 browser which enables sending of transactions within chats and connecting to DApps.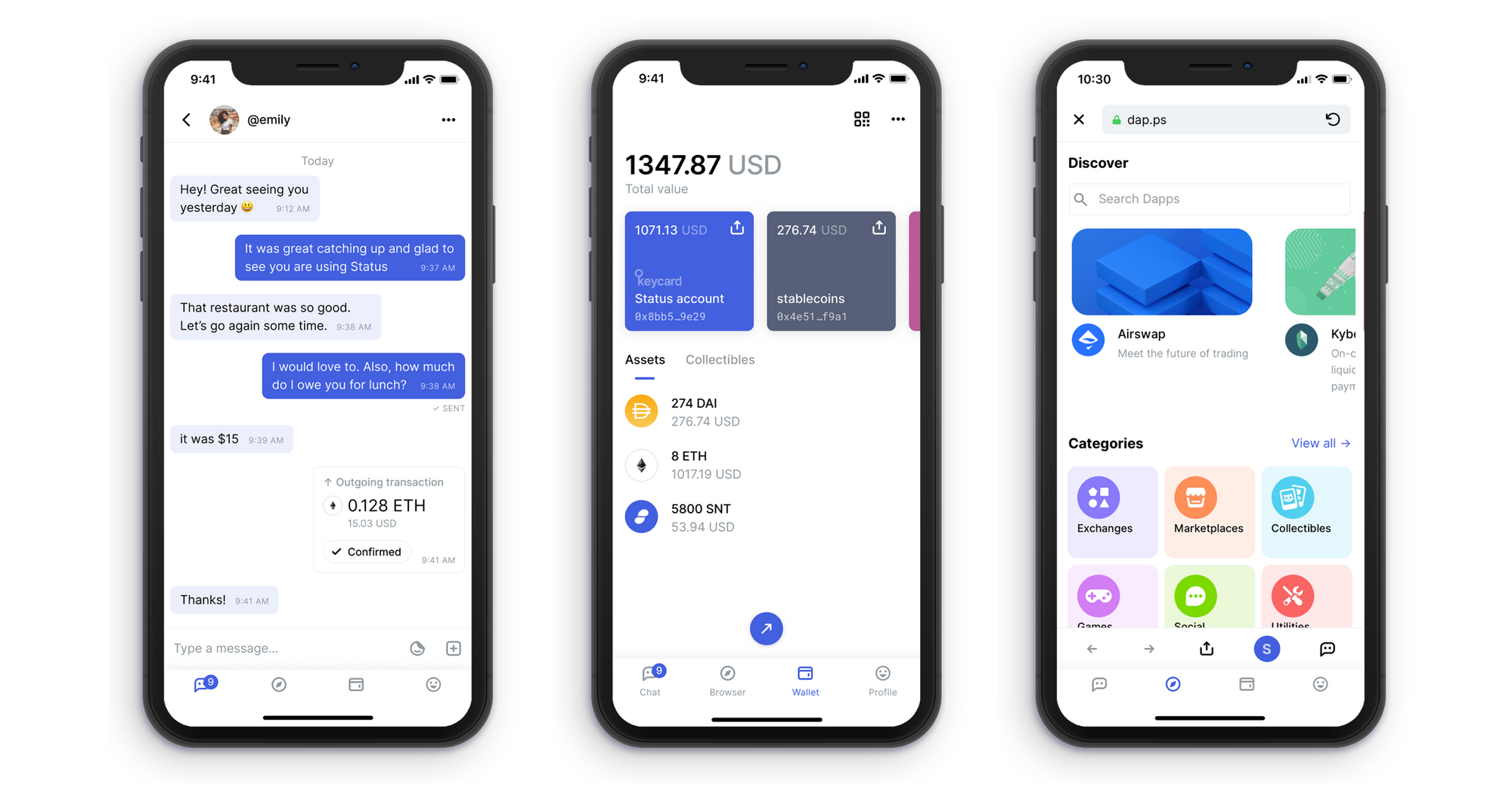 One important thing to know about the Status wallet is that, it is a non-custodial wallet & not a custodial wallet.
What is the difference between a Custodial Wallet & a Non-Custodial Wallet?
A custodial wallet is a wallet that allows you to store cryptocurrency assets without giving you full access to control those assets.
In simple words: A custodial wallet has your private keys & controls your funds.
A non-custodial wallet allows you to store cryptocurrency assets and gives you full control of those assets.
In simple words: A non-custodial wallet doesn't hold your private keys (you do) & also has no control of your funds (you do).
Is the Status Wallet Secure and Should You Trust It?
@Rbin covered the Status security tech stack few weeks back and you can read it for a quick technical overview of why the Status App (wallet included) is secure.
Status also never uses third party services for managing and storing your public and private keys. Once generated, the first BIP44 key is saved in a keystore json file locally on your device. This file is encrypted with the password you choose for your Status account, and is only accessible by the Status app.
If you lose access to your wallet , you can only restore access if you have your mnemonic phrase. Make sure you back it up and store it offline.
Head over to profile > privacy and security > back up seed phrase if you haven't done that yet.
What can you store on the Status Wallet?
The Status wallet is a multi-currency wallet and it allows you to store ETH, all ERC20 tokens &  a limited number of ERC721 tokens.
In case you are wondering what ERC20 & ERC721 tokens are, they are tokens designed to be used on the Ethereum blockchain. SNT is an example of an ERC20- token. It works on Ethereum, but has a different value and monetary policy from ETH.
Receiving Transactions on The Status Wallet
Receiving Transactions
Status supports only Ethereum assets and you can receive ETH, ERC20/ERC721 tokens in one single wallet.
To receive ETH, ERC20/ERC721 tokens on your Status wallet, go to wallet then click the share icon. You will see your wallet address, also in a QR code format.
Adding Custom Tokens
Although the Status wallet supports all ETH, ERC20/ERC721 tokens, only a limited number of them are added on the wallet by default. If you can't find the tokens you deposited on your Status wallet, here's how to make them show up on your Status wallet.
Head over to wallet, then tap the overflow menu. After that, click manage assets then add custom token. After that, you are required to fill the Contract address, token name, token symbol & Decimals which is needed to add the token as default.
If you have no idea how to find this, head over to the Status browser, go to etherscan.io & input the name of the token in the search tab & there you will find all the necessary details.
I hope this gives new users some help and first steps in finding your way around Status. Reach out in chat and I'll be happy to help talk you through challenges. See you in Status!
Ping me on status: @henrystats
---
Disclaimer
The views, information and opinions expressed are solely those by the author above do not necessarily represent the views of Status. This article is a general interest piece and is not an endorsement of any particular product, service, or political position. Any reference in this article to any person, organization, activity, products, or services does not constitute an endorsement or recommendation of Status. This article does not constitute legal or other professional advice or services. Status is a decentralized community with a platform for members to freely express their diverse ideas and perspectives.