[Thanks to our wonderful community of translators, you can read this report in Español, 中文, Русский, 日本語訳, Tagalog, and 한국어 <3  Report design courtesy of Alejandro Zerah]
1. Welcome

It's great to be back, bringing you the Q4 2019 edition of our quarterly report. We'll be recapping our highlights from the quarter and also casting a look back over 2019, a busy year reflected in the fact that we were 2019's most prolific ERC-20 project by dev activity.
It's hard to believe that this time last quarter, The Status Network hadn't yet been launched. Fast forward to now where the pieces of the puzzle are coming together, forming one whole bigger than the sum of its parts. A lot has happened!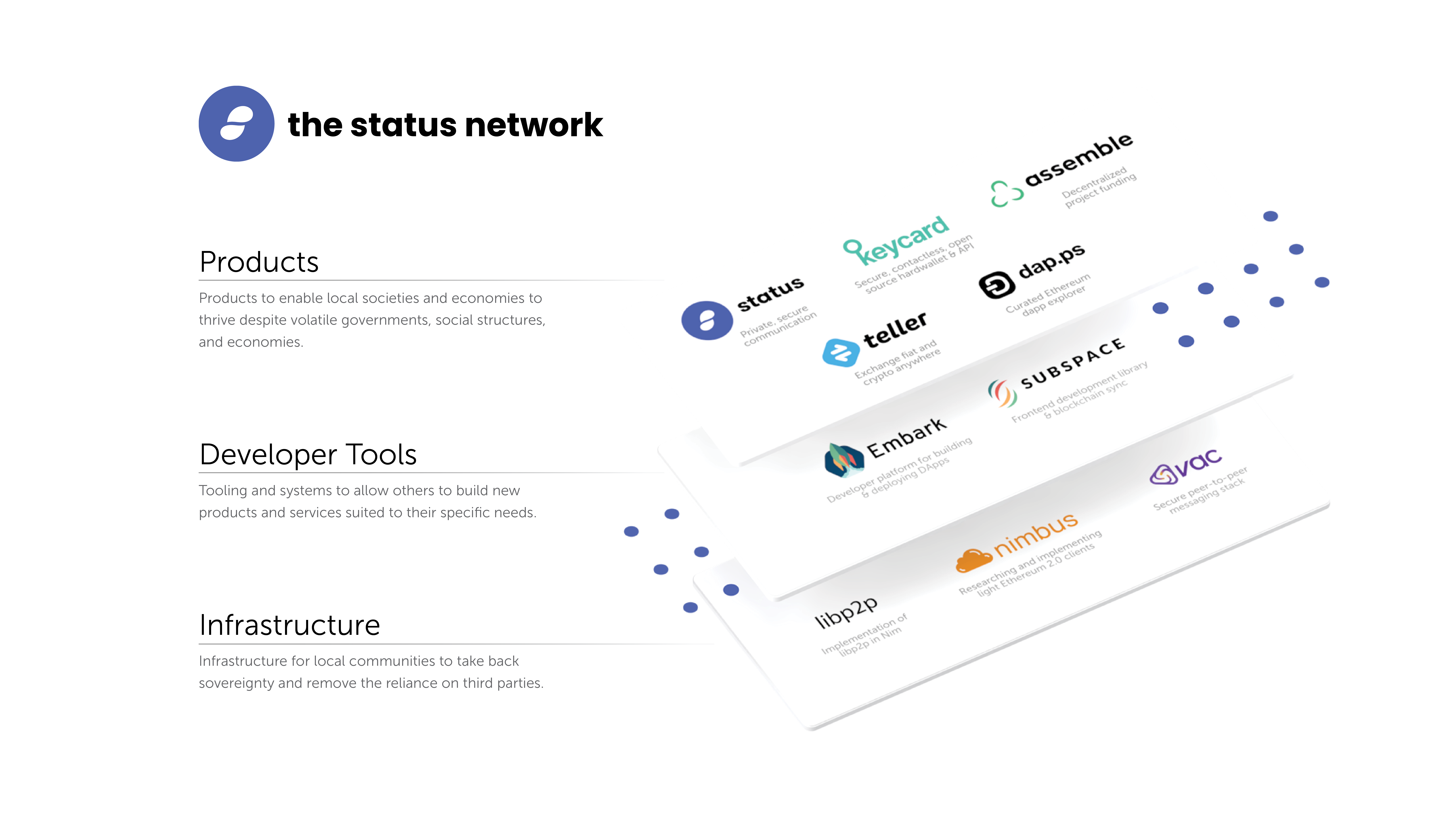 The genesis of our project was in our mobile app, Status (v1 soon to be launched! More on that later...), but 2019 cemented the shift in thinking from Status as a standalone product to The Status Network as a whole open source peer-to-peer tech stack, building decentralized technologies ranging from protocol-level infrastructure to consumer apps.
Everything we've done this quarter (and in fact since inception) has been with our principles squarely in mind. This quarter we were thrilled to be listed in the Messari registry, demonstrating our ongoing commitment to operating transparently.
2. Status app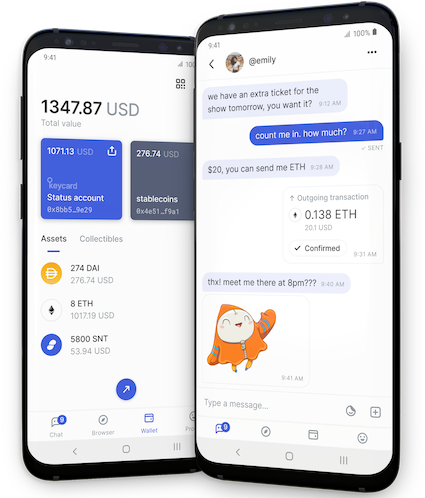 Mobile app
The final countdown is on, with v1 of the mobile app due for launch by the end of Q1. We're making the finishing touches and our release candidate is going through some final testing from our team and community as we speak.
To get to this point, we completed a security audit, where 40 issues were discovered then subsequently resolved. We're so excited to share v1, the culmination of 3 years' work, with you all. If you're a tenured follower of Status and are on beta, note that v1 introduces some breaking changes (read more here). As at the wrap of the testing phase, we had ~8,000 beta installs across iOS and Android.
Our four core app achievements in 2019 have been:
Status now supports multiple wallets in one account - we separated chat and wallet keys for greater privacy. We're ready for integration with Keycard.
New and improved SNT utility features - Sticker Market will launch with v1, and ENS names can be used as display names in chat.
UI face lift - new onboarding and wallet transaction flows, wide-reaching improvements in chat.
Performance gains - > 45% improvement in chat loading, and a snappier UI.
Post v1 launch, 2020's focus will be:
Making chat more engaging and enjoyable to use.
Fixing significant blockers - namely battery consumption through the Waku project.
Optimizing UI performance - specifically targeting older Android devices.
Introducing Nimbus on mobile - ultimately replacing go-ethereum and helping Status run on a much greater range of devices.
Updating ReactNative browser implementation - moving to a better-supported, community-built implementation, and accommodating updates to Ethereum provider EIPs.
If you're as stoked as we are for v1 to drop, stay tuned imminently!
3. SNT utilities
Status Network Token (SNT) is the utility token that powers and incentivizes the Status Network.
There are currently 69,924 SNT holders, with 763,526 transfers having been made to date, and a total supply of 6,805m SNT. You can see more token metrics here.
We've launched a new analytics dashboard as a means of monitoring the exchange of value through the Status network, starting with Dap.ps and ENS usernames.
Massive kudos to @datagiraffe for the amazing work on a transparent view into SNT utility.
ENS Usernames - UPDATES COMING IN V1
An ENS username is a stateofus.eth handle that users can register by locking up 10 SNT. There are currently 1,364 ENS usernames registered by 654 owners, with SNT 13,620 locked in the contract.

Users can register their desired ENS username seamlessly and directly in the app, with the ENS name now appearing as the display name in chat. When v1 lands, and breaking changes mean that users will have a new chat key, ENS usernames that users already own can be linked to the new key.
DApp Discovery - LIVE
Following on from Q3's launch of dap.ps, a curated list of DApps that relies on a unique economic mechanism to rank information without any centralized authority benefiting, we introduced the DApp Integration Center - a step-by-step guide for developers on optimizing their DApps for Status. We also kicked off a campaign along with B9lab to onboard the first 100 DApps to the platform.
Getting you dapp in https://t.co/gfK23rYOv4 ahead of the official launch will mean you get the launch buzz. We created a guide to help you optimise your work while creating #dapps that integrate with #Status. Be one for the first 100! @ethstatus https://t.co/zS1AZwXH9Q pic.twitter.com/INmRTBy9x8

— B9lab (@b9lab) December 2, 2019
Teller Network - IN DEVELOPMENT
Teller is our DApp allowing people to exchange fiat for crypto in their locale, like being a mobile ATM for crypto. 2019 was a huge stride forward for Teller, with the following achievements:
Feature development - Licensing system, Arbitration system, fee-less transactions, anti-spam mechanism, filtering, governance, email notifications, staking system.
User Testing & Feedback - both with the crypto community at EthBerlin, but also in the community on the ground in Venezuela (more on Hester's visit there later!)
Tools & many integrations
Gas station network
Kyber
Murmur
Status js api (Chat Widget, Gitter Bridge, Status web client, etc..)
Subspace.
Looking ahead to 2020 for Teller's development - we'll be working on finalizing documentation and security auditing Teller.
Beyond initial launch, our future plans are:
Scalability using rollups & state channels
Private transactions
Mixer integration.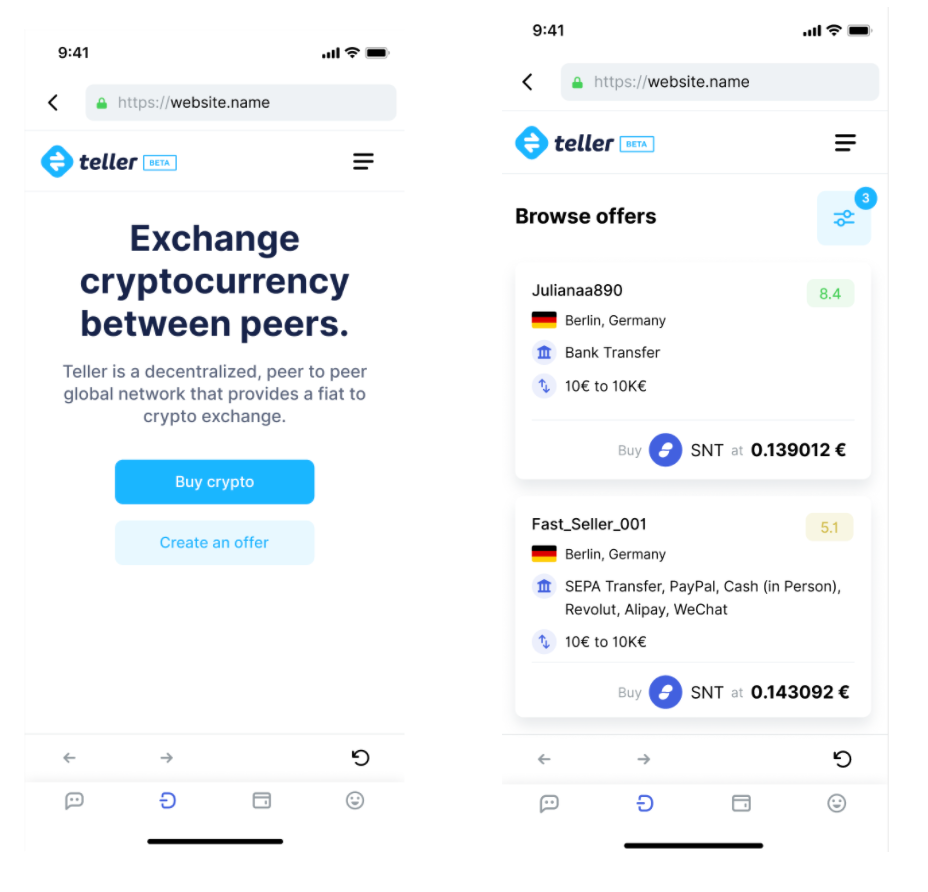 Sticker Market - COMPLETED
Sticker Market offers a marketplace for artists and creators to upload and monetize their sticker design work. Users can purchase sticker packs within the Status app using SNT. All proceeds go directly to the creator (we don't take a cut of the fees). Sticker Market is ready for launch alongside v1 - we can't wait to see (and use!) all the stickers the community creates.
Governance
Putting SNT-based governance to the test, we held our first ever community governance vote, kicking off with a call to discuss, and later a vote on, two proposals: introducing privacy preserving analytics to our websites, and creating a community Discord server.
Both proposals were voted in and implemented. We're excited to expand this kind of community voting in future, making use of quadratic voting with SNT on vote.status.im. More to come in 2020! If you have a proposal you feel strongly about, let us know and we can put it to a vote to SNT holders.
Results from the 1st community governance vote:

1. Implement Fathom Analytics on marketing sites
> Yes: 100%

2. Open Discord as a community comms channel
> Yes: new Status Community server: 78.05%
> Yes: keep some channels private: 11.89%
> No: 10.05%https://t.co/jvnhsKL1dC pic.twitter.com/JfhVQj5QNA

— Status (@ethstatus) November 4, 2019
4. Product & swarm updates
Keycard
Keycard is a secure, contactless, open source, hardwallet. In 2019, Keycard matured from applet code into a full, integratable, product. With APIs fully documented, and SDKs in place, we manufactured and shipped 2,000 Keycards via an e-commerce storefront for developers to hack on. The results were magic, with teams across the ecosystem like Gnosis Safe, Walleth, and Grid+ getting involved in integrating Keycard into their products.

We also developed a prototype of a simple Android app that bridges Keycard with WalletConnect, an open protocol for DApps (on a desktop non-web3 browser) to connect to a mobile wallet.

There's plenty more exciting integration activity in the pipeline, we eager to see how this grows as more people manage to get their hands on a Keycard.
Magic with @Keycard_ and @gnosisSafe: A true 2FA transaction is signed with a private key on the phone and in addition with a private key in a secure enclave on the Status keycard. The most easy-to-use multisig! It also works with dApps using @WalletConnect! https://t.co/zs8TjyClW1

— Stefan George (@StefanDGeorge) October 31, 2019

Moving into 2020, the foremost objective is full integration with the Status app on Android. Then, work will be undertaken to improve the UX and prioritize features that didn't make it into v1.1. We've exclusively been talking to developers about Keycard, but with a dedicated marketer coming onboard in 2020, we'll be branching out to speaking to crypto enthusiasts (and others!) too.

Not just a product vision, we're also laying the foundations for an open source payment network. We've got a defined architecture and proof of concept in place. Any phone running Status will become a permissionless point of sales accepting payments with crypto debit cards.

The first demo of this will drop in Q2 2020, we'll then ramp up outreach and field trials to see how the payment network fares in action in the real world - watch this space!

You can now integrate @Keycard_ with your iOS app with our Swift SDK 🚀 https://t.co/n8qaOAQtLk
Big thanks to @gnosisSafe team for their help here ❤️

— Keycard (@Keycard_) October 4, 2019
Embark
The decentralized ecosystem is only as powerful as the applications that are available to the user. This is precisely why we support developer tooling through our Embark and Subspace initiatives.
2019 saw three major releases of Embark, 4.0, 4.1, and 5.0. We inched forward, alpha release by alpha release in Q4 2019, finally reaching v5 stable at the turn of the year.
We're really excited at all our achievements in Embark over 2019:
Cockpit UI (+ IDE & Block Explorer)
Integrated Debugger
Transaction Logger
Easier configurations
Faster Tests
(Major) Code refactor & re-architecturing
Monorepo, Typescript
100% plugin oriented.

We'll bring you weekly releases building on v5, and will aim to support ETH2.0 and other burgeoning web3 tech, alongside our usual goal of bringing new tools and features within Embark.

With Embark as the gateway for building DApps, we want to use community initiatives in 2020 to onboard more developers and provide hands on support to them in creating not only the DApps themselves, but launching startups and small enterprises through their DApps. If you're an aspiring DApp developer, or have an idea for a business which you'd like to realise through decentralized tech, hop in to our friendly Embark community.

🎉 Embark 4.1 stable out now! 🎉

Two months after the first beta release we're happy to finally announce that 4.1 is out!

Read more about it in our announcement post 👇https://t.co/7lUowHc82r

— 🚀 Embark (@EmbarkProject) August 13, 2019
Nimbus

Q4 saw the Nimbus team launch a new public ETH2 testnet using a validator deposit contract running on the Görli ETH1 testnet, with nim-libp2p, a native LibP2P and GossipSub implementation, now baked in.

What started earlier in 2019 as an experimental network using the DevP2P protocol evolved into using LibP2P. During this time, there were still ongoing and wild changes to ETH2 but over the coming months, things would solidify around a LibP2P-based networking spec.

All client teams got together for an interoperability jam and the first successful networked multi-client tests put the new protocol to the test. Slowly but steadily, client teams have been working on interoperability across all layers of the stack: consensus, networking, sync; and we're seeing more and more public testnets appear. We've been publishing metadata files for our open testnets, allowing other clients to join more easily.

Curious what's going on in the #eth2 testnets? https://t.co/BMpNEfsWBO is a network monitoring tool that will connect to the #libp2p overlay and print traffic and metadata - tcpdump for #eth2 if you will. Easy to build and easy to use :) pic.twitter.com/UwU7MdlZRV

— Jacek Sieka (@jcksie) December 17, 2019
In other news, we created an ewasm contract for an ERC-20-like token in Nim (Nimplay); and Nimbus was added to Sigma Prime's cross client differential fuzzer! You can check the repo here.

Vac

The main focus for Vac this quarter was addressing scalability issues with Whisper. We also continued work on the header spec as well as implementation of it within MVDS, researched spam resistance for Whisper, and looked at requirements for adaptive nodes.
Vac got a fresh look this quarter, with a sleek redesign and logo courtesy of community competition winner @_melvinalvarez.
The Vac team published a number of research updates this quarter:
P2P Data Sync with a Remote Log - on how to solve the mostly-offline problem for mobile phones in a p2p network.
Feasibility Study: Semaphore rate limiting through zkSNARKs - exploring the use of zkSNARKs as a privacy-preserving spam prevention mechanism in open p2p networks.
Fixing whisper with Waku -  ever wondered what happened with Whisper? We kicked off Waku to solve Whisper's scaling problem. We even reached spec 0.2 towards the end of the quarter.

New research update for @vacp2p

Ever wondered what happened with Whisper? This post explains why it doesn't scale and what can be done about it.https://t.co/pdaOmEs1hH

— ؜ (@oskarth) December 3, 2019
5. Funding
Project financials
Here's what we've spent so far this year to fund the project, as well as a look at what we have in the treasury. NB: we previously published the quarter's financial results in the report of the same quarter, however we will now share the results for each quarter retrospectively, i.e. in the following quarter, to allow for time for our accounts to be finalized at quarter close.
| Expenses ($1,000s) | Q1 2019 | Q2 2019 | Q3 2019 | Q4 2019 |
| --- | --- | --- | --- | --- |
| Salaries, core contributor fees & individual expenses | $1,900 | $1,800 | $1,700 | Figures will be available in Q1 2020 report |
| Third party vendors | $100 | $200 | $300 | |
| Marketing & sponsoring | $50 | $50 | $40 | |
---
| Reserves ($1,000s) | Q1 2019 | Q2 2019 | Q3 2019 | Q4 2019 |
| --- | --- | --- | --- | --- |
| ETH & USD holdings | $30,000 | $57,000 | $34,000 | |
[For ease of reference, we've shown our financial data in this report in USD. When putting together this information, we used the following Coingecko exchange rates to convert ETH balances:
Q1 2019, 31/3/2019, 1 ETH = ~$142
Q2 2019, 30/6/2019, 1 ETH = ~$321
Q3 2019, 30/9/2019, 1 ETH = ~$180
Q4 2019, 31/12/2019, 1 ETH = ~$129.]
Strategy
We continued to maintain a ring-fenced amount of ETH 150k reserve (that's exactly half of the ETH 300k raised during the contribution period, now equivalent to ~$19m at the time of writing) for user acquisition that won't be touched until we're ready for mass adoption and scale. There are no plans to change that strategy.

Our aim has been to continually secure a rolling six month runway to pay for ongoing project expenses (the most significant of which being core contributor fees/salary). In Q4, the crypto markets have been volatile (as always!) and the current trend in the value of ETH has been downwards since Q3, meaning a decrease in value of our ETH reserves.

Our focus now turns to growth fundraising.  Although we have an excellent foundation with the funds raised at the contribution period, additional funds would offer a number of benefits, including:

Providing stronger governance and accountability over our corporate entities;
Access to strategic partnerships and contacts through VC investors;
Facilitating growth as we enter the next phase of the Status App;
Acquiring real-world users and catering to people beyond the crypto community (shortly after Waku we'll have clear metrics on user acquisition costs for this);
Enabling us to continue investing in infrastructure;
Providing greater long-term security for existing CCs.

SNT from our existing holdings would be sold to facilitate fundraising, rather than the minting of new tokens.

We'll be going on a fundraising roadshow in Q1 2020 to kick off these efforts, and will be sharing more detailed information on next steps in the coming months.
Assemble
Assemble is our implementation of a decentralized funding platform (think: decentralized Kickstarter) - a place where projects can request funding, and any funders can pledge funds. It's transparent, permissionless, and 100% of funds pledged are received by the recipient.

We head into 2020 going live with our pilot version, targeting community members to help us dogfood and test the app by submitting real world proposals. You can check it out at assemble.fund. We're excited to see the project ideas that come in! Q1 2020 will see us build out a roadmap for Assemble based on the feedback and feature requests that come in from the pilot.
6. Conferences & Events
Conferences
There were no major conferences in 2019 after DevCon (see Q3's report for more on that). We'll be back on the road in 2020. In the meantime, we kept busy with these appearances/visits:

Barry won a prize in the Graph's virtual Hackathon for the index built for liquid-funding.
Hester conducted field research in Latin America, seeing how crypto is used daily in Venezuela and Colombia and road testing Teller -  read her insights and notes here.
7. Contributors
Core contributors
We achieved our goal or maintaining a consistent team size throughout 2019, ending the year on 61 core contributors. We intend to grow our headcount slightly in Q1 2020, hiring for marketing and protocol engineering roles plus for additional support on technical writing and recruiting. As part of our hiring efforts in 2019, we reviewed 2,247 job applications, with 69% of applicants indicating they would be open to accepting payment in crypto. Our core contributors are spread across the globe, with 21% in the Americas, 67% in Europe/Middle East/Africa, and 12% in Asia Pacific.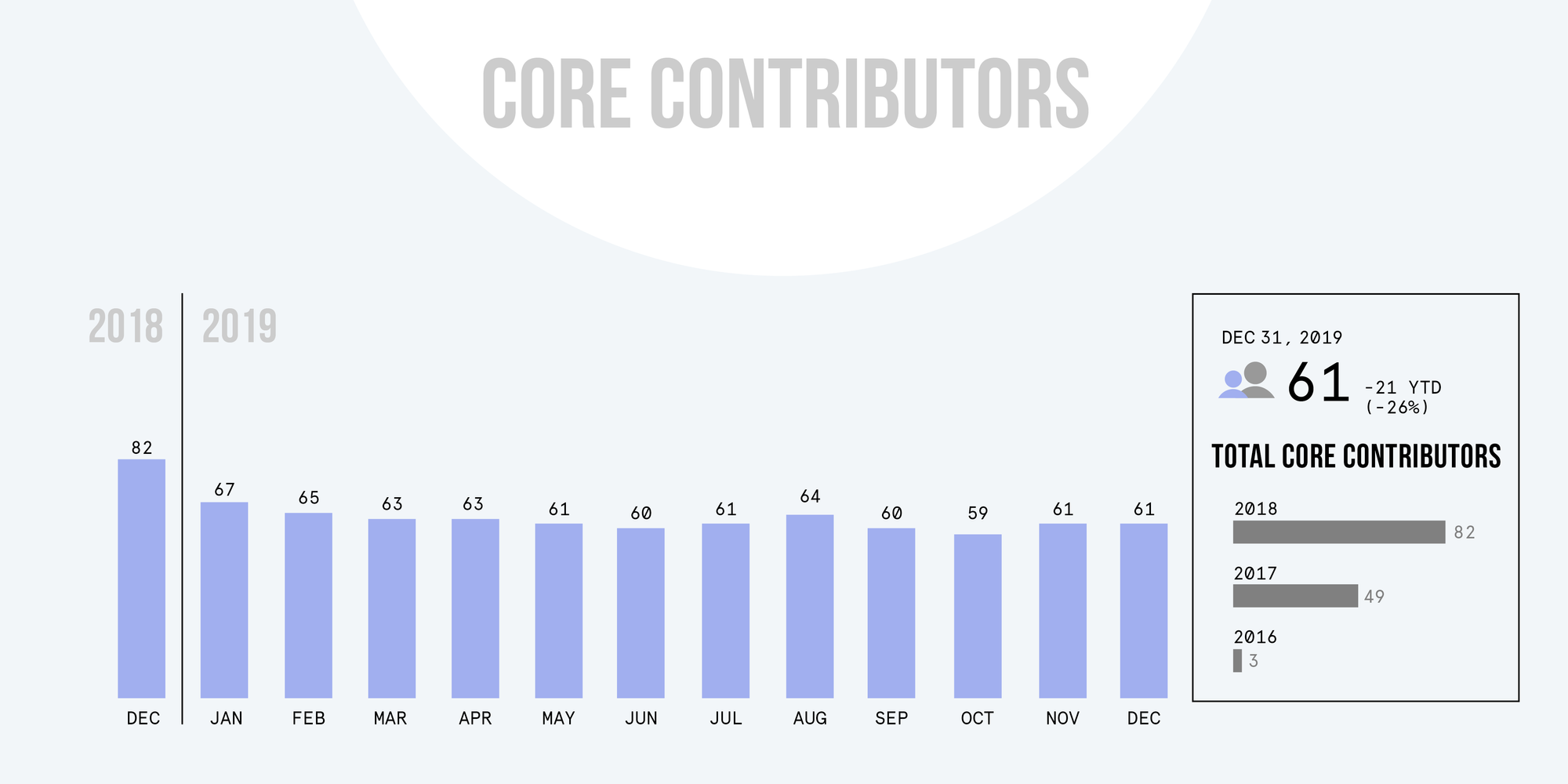 Turnover across the whole of 2019 was 52.3% of the core contributor headcount, with the bulk of the turnover happening in January 2019 with trailing notice periods coming to an end related to redundancies made during cryptowinter. Removing January 2019 from the equation, the turnover from Feb-December 2019 was 27.4%, with an average of 1.5 contributors (or 2.5% of the population) departing each month.

The average tenure of a core contributor is currently 1.7 years.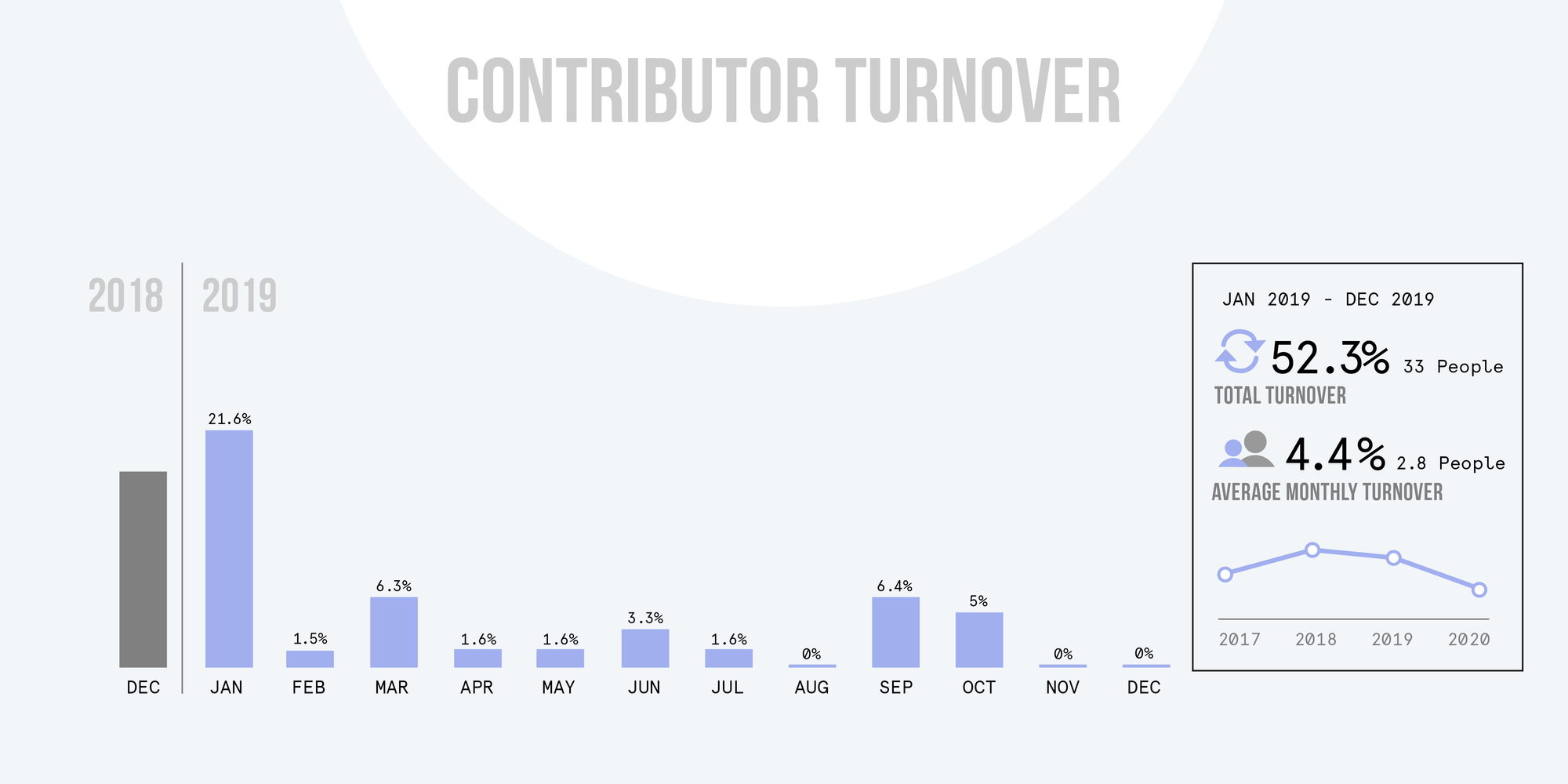 For departures during 2019, factors related to economic circumstances were the top two contributing reasons (cost reduction (39% of leavers) and role redundancy (15%)), with core contributors leaving to seek other employment coming in third (15% of leavers).

During Q4, we bade farewell to three core contributors, and welcomed two new core contributors to Status: @mcbain on technical marketing, and @stefano as a quantitative analyst supporting the finance team. We're also grateful to @alexh & @andyb jumping in to the fold to help the marketing team with interim expertise on graphic design and technical writing.
Ambassadors
Re-introducing the Status Ambassadors! Join us in creating & promoting the tools, products, & infrastructure for sovereign, open societies & economies.

Become and ambassador and get funding, support, access, gear & more. Learn about the program & apply https://t.co/9dflsPdgTp

— Status (@ethstatus) October 28, 2019
The #statusphere ambassador program made a strong comeback in Q4 2019. We reviewed applications, held interviews, and are now at 30 ambassadors, with 21 welcome kits having been shipped to those most active in the programme.
In the first quarter of the new refreshed program, ambassadors completed 50 tasks, across content (82%), events (6%), community building (8%), and technical (4%).

Our highest concentration of ambassadors are in Nigeria, USA, and China, so future ambassador recruitment efforts will be focusing on new community locations, particularly Europe, Latin America, and Asia.
.@KuyaKris88 talks about experiences as a Status Ambassador and using @gitcoin Hackathons to Explore Blockchain Gaming.

Check it out here https://t.co/6OtF18SZNE

— Status (@ethstatus) December 6, 2019
The Status Ambassadors are off to a great start! Long time Ambassador and contributor @tbenr created this awesome @gitcoin Quest.

How well do you know the Status Principles?https://t.co/TZFSxG0JYN

— Status (@ethstatus) October 30, 2019
Shout outs!
Our favourite bit of the report - where we get to say thank you to some of the multitude of people that make Status what it is. Huge kudos to:
As our project matures, we're thrilled to have seen in our first 3 year anniversaries - for @roman and @andrei, attaining hall of fame Status as our longest serving core contributors. We also have another 17 core contributors who had their 2 year anniversaries in 2019 <3
To our ambassadors old and new - thanks for being with us on the journey.
As excitement builds for v1 app launch, it's been amazing to see more and more of you stop by our community chat and keep coming back. Whatever piqued your interest to come take a look, and whatever keeps you sticking around, we love having you in the mix. It's a pleasure not only to be able to collaborate with you on building something meaningful, but also to get to know you all in our daily chats.
Third-year with #opensource, #clojure, #remote and @ethstatus . ♥️♥️♥️♥️ pic.twitter.com/UR9qxzkU4L

— Andrey (@flexsurfer) December 30, 2019
Want in to our merry community? Find out more here about how you can get involved.
8. Goodbye 2019, hello 2020
Reflecting on 2019, a year in which we delivered on whitepaper promises - it's amazing to think that we did this in a span of two years from fundraise.
2020 will be the year when all of our projects will coalesce and form into the complete picture.
With v1 on the verge of release, and Waku following along not far behind it, we're in a position very soon where we can get Status into the hands of real users. This will initially be done by targeting the crypto and private messenger markets. In doing so, we'll make a step towards advancing consumers' use of disintermediated transactions and of decentralized and crypto communications.
We'll be deploying a decentralized point of sales payment system using Status + Keycard; anyone in the world can permissionlessly start accepting retail payments for a fraction of the costs, with just a smartphone.
We'll be publishing the code for anyone to deploy and participate in a p2p fiat to crypto onramp solution. Anyone can become an ATM, turning cash into crypto and vice versa, courtesy of Teller.
With Assemble we'll be making huge steps to opening up our development process and living our principles by being more inclusive.
We'll be moving deeper into architecture and infrastructure, specializing in layer 0 technologies, developing new capacities for modelling the systems, institutions, and markets we create.
2020 is the year we've been waiting for - to see our hard work paying off. And it's just the beginning. The future is bright. In addition to this, we'll be finding real world use cases to deploy our technologies like custom blockchains solutions and smart contract institutions. We're looking forward to working with marginalized groups to help them deploy technologies and become sovereign.

Thanks for reading this report, it's an honour to have you on the journey with us. Here's to an epic 2020! - your friends at Status.
Appendix
Translations
A huge and heartfelt thank you to our awesome translators, you make a huge difference by helping us reach more people with the message!:

Japanese: Tsuyoshi
- jokyash.244@gmail.com
- Twitter: @Jokyash

Russian: Loran
- Twitter: @Loran13Loran

Spanish: Nicolás
- nicoeur.lecoeur@gmail.com
- Twitter: @enevve

Chinese: Steven
- wohuxishihai@gmail.com
- Twitter: @steven20110906

Korean: Jinho
- Twitter: @jinhojang6
Tagalog: Ken
- kencrypto.whisperer@gmail.com
- Twitter: https://twitter.com/kenberey
Disclaimer / fine print
This report was made for your entertainment, and we'd ask you not to rely on it for any other purposes, e.g. making investment decisions. Just to be super transparent, we want to highlight that:
Token metrics info is an estimate supplied by a third party, given for illustrative purposes. We have not independently verified or fact checked this data.
Status financial information provided is estimated based on data available in January 2020 and may change due to intercompany chargings or ongoing updates in accounting. Numbers have been rounded for ease of presentation.

Thanks for your understanding!