On September 14th, 2018 we announced that we would be ramping up development on Status desktop. Core contributors slowly deactivated their Slack accounts and migrated entirely to Status.
In November 2018 at Devcon4, we officially pulled the plug on our team Slack, leaving our 30+ Slack channels and hundreds of thousands of messages behind.
After 9 weeks of serious dogfooding, the desktop client has hugely improved and we're ready to share it with the world with an alpha release.
Status desktop is a huge step forward for private, secure, censorship resistant, and decentralised communication. Not only is it the first desktop messenger built in line with our principles, it enables a more complete experience, by allowing you to leverage our peer-to-peer communication tool on all your devices.
The Need for Secure Communication
In 2018, we saw a number of privacy breaches, data leaks, and outright censorship on the part of centralized service providers.
Even popular messengers making claims of privacy and security have sold user data and reportedly given away private communication to other corporations. Users with ties to certain countries have been locked out of their workplace tools. And we've all experienced inevitable server outage disrupting productivity at a global scale.
Status desktop removes the centralized services and third parties at the root of these problems, resulting in a tool that is more private, secure, and censorship resistant.
Peer-to-peer, Serverless Messaging with the Whisper Protocol
Just like our mobile application, desktop uses the Whisper protocol for peer-to-peer, serverless messaging. This means that beyond standard security features like end-to-end encryption, our messenger also offers dark routing and prevents metadata leakage, for stronger privacy and security. Your messages cannot be seen or manipulated by us, or any other organization or malicious actor.
We can not and will never place restrictions on your access to Status, what you say, or to whom
Syncing Across Devices
Our choice to focus on desktop was about meeting our own needs. Like most organizations, we spend our days chatting and coordinating from our desks, sending thousands of work messages to troubleshoot, coordinate and get the job done. A Status desktop client was needed to complement the mobile app and also make our own tool easier for us to use.
For an integrated user experience, we're currently working on device pairing between desktop and mobile. To sync messages and contacts across devices, follow these simple steps:
Mobile:
Go to Profile
Tap advanced and turn on development mode
Now go to devices and tap "Pair this device"
Desktop:
Go to Profile
Tap devices
Enable Device pairing
Device syncing is under active development, and you can expect improvements in the coming weeks.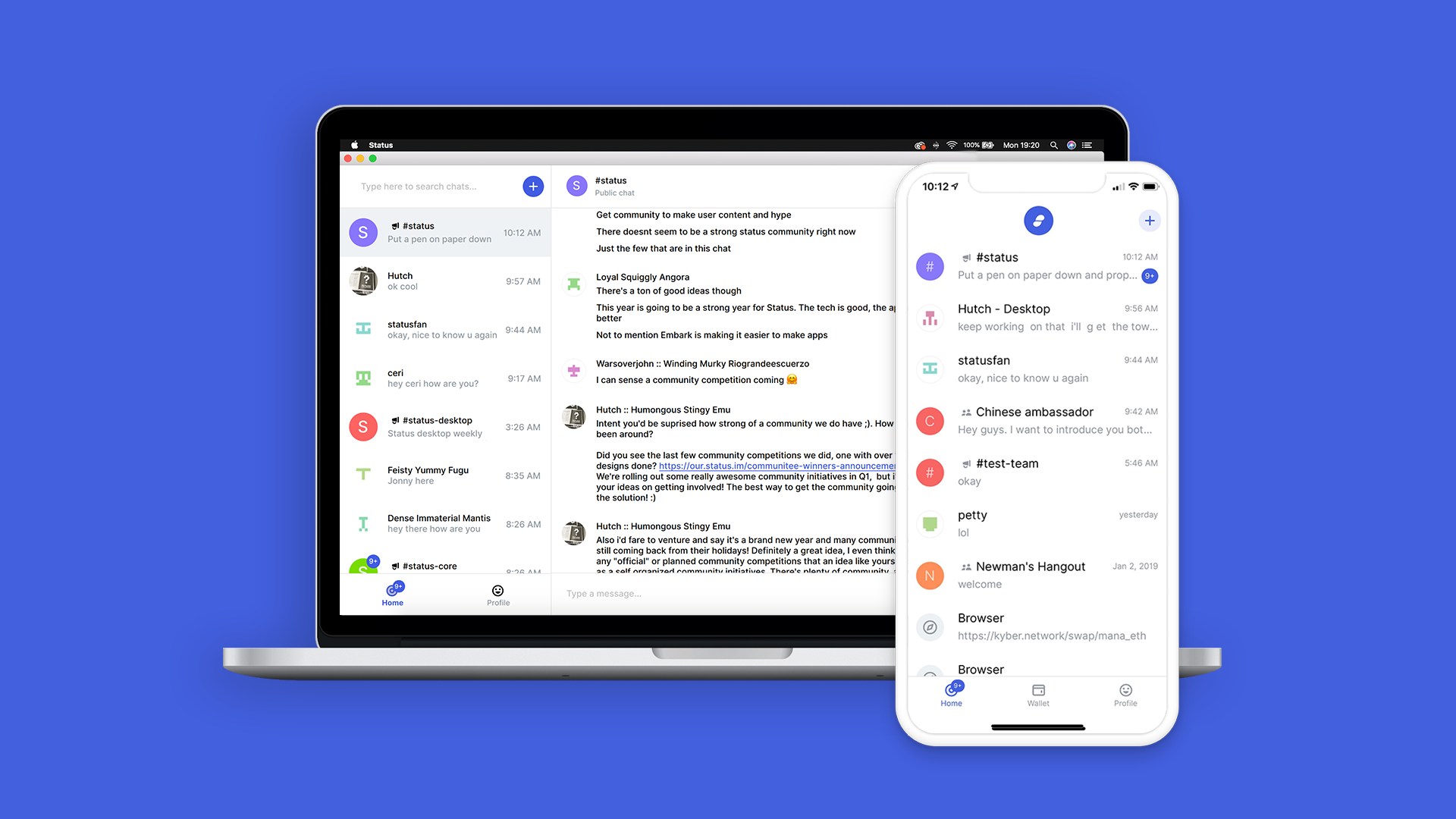 Getting Started
Join us on desktop by downloading for Mac, Windows, or Linux from status.im/get_desktop
Here are a few popular channels to get you started:
And if you need support, #status-desktop is where to find it.
Note that while desktop offers the best of Status chat, it does not currently include our ERC20 wallet or web3-enabled browser.
Have feedback or requests? You can share your thoughts with us via this form.
As with all our software, desktop is entirely open source and you're welcome to build new features or modify it for your needs.
Download & Install
Desktop
Mobile
iOS

Update to latest version. Within TestFlight, make sure you see Version 0.9.32 and tap 'INSTALL.'
If you don't currently have Status installed, access via TestFlight here: https://testflight.apple.com/join/J8EuJmey.

Android

Join the beta program or update to the latest version from the Playstore here